On Tuesday, Modi will share his views with India Inc on 'Getting growth back'.
R Rajagopalan reports.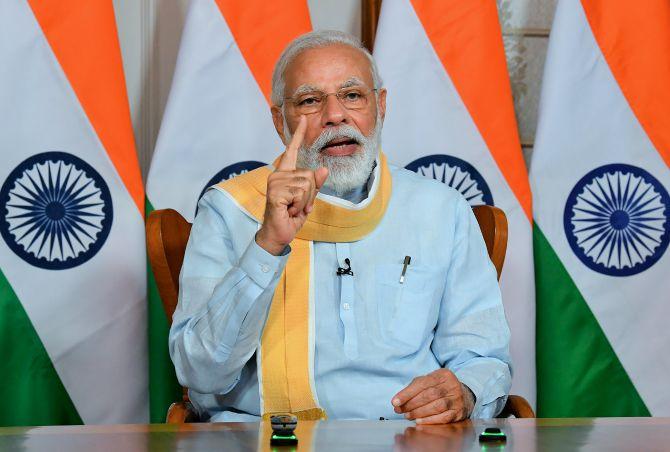 After being confined more or less to 7 Lok Kalyan Marg for more than two months following the national lockdown he imposed on March 24, Prime Minister Narendra Damodardas Modi is off on his mission to usher in a semblance of normalcy as part of Unlock 1.
He began the first working day of his seventh year in office by drawing up a tight schedule of 28 meetings this week.
Monday's Union Cabinet meeting was the first to kick off, with its important decisions to hike the minimum supply price for paddy and to offer a Rs 50,000 crore equity package for the ailing MSME sector.
Modi also addressed the 25th anniversary celebrations of the Rajiv Gandhi University of Health Sciences in Bengaluru via video.
On Tuesday, Modi will deliver the inaugural address at the annual session of the Confederation of Indian Industry, via video conference, and share his views with India Inc on 'Getting growth back'.
Wednesday will see Modi chair the Cabinet Committee on Economic Affairs that is expected to kickstart the modalities of setting up the Migration Commission.
On Thursday, Modi will hold a virtual summit with his Australian counterpart Scott Morrison. The two leaders are likely to sign the Mutual Logistics Support Agreement, which will pave the way for greater defence cooperation between the two countries.
It is not just the prime minister who has decided to inject normalcy in political life. With the resumption of flights, trains and other means of transport, Union ministers have also started readying for political events.
On June 9, Home Minister Amit Anilchandra Shah is set to kick off the Bharatiya Janata Party's Bihar assembly campaign with an address to state BJP workers as well as address a public rally -- both virtually.
Various Parliamentary standing committees are also expected to meet in New Delhi from Thursday.
The Election Commission has announced the delayed Rajya Sabha polls for June 18. Monday saw the poll panel holds its first physical meeting of the three election commissioners in three months.
Clearly, New Delhi is sending out the signal that India is returning to normalcy.