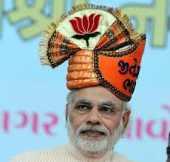 The Bharatiya Janata Presidemt President Rajnath Singh on Saturday described Narendra Modi as the "most popular" leader and said his party has decided to leave it to the people to give befitting reply to the Congress for comparing the Gujarat Chief Minister to 'Yamaraj'.

Singh, the only prominent national leader present at the Gujarat BJP's function in Ahmedabad to celebrate party's foundation day, was felicitated on the occasion. Singh also praised Modi and compared him to Sardar Patel and Mahatma Gandhi, both from Gujarat.
"It pains when such a successful Chief Minister is called 'maut ka saudagar' (merchant of deaths). I would like to thank people of Gujarat who gave a befitting reply to those remarks," Rajnath said, referring to Congress President Sonia Gandhi's statement during the 2007 state election campaign.
"They suffered a loss due to this remark but are not relenting. Now, they say that the Gujarat chief minister is `Yamaraj' (God of Death). We do not want to say anything now but people of this country will teach you a lesson with the results of 2014 elections," Singh said.
"If Sardar Patel had not been, there India would not have been united. Mahatma Gandhi had worked for the freedom of the country and now Narendra Modi is the most popular leader of the country," Singh said.
Singh recently inducted Modi into the BJP parliamentary board and the central election committee.
Modi said in his speech on Saturday, "I sincerely thank the BJP president for taking me to the national level. A big heart is required to take such decisions."
Taking a dig at Congress Vice President Rahul Gandhi, Singh said, "The `yuvaraj' (prince) says that a leader will not come on horse. I can say that the BJP leader will neither come on a horse nor elephant nor a buffalo. He will come on foot, with the poor and weak."
He also said that now there were not two but `two and half' power centres in the Congress. "There is the PM, party president and half a power centre has come now in the form of new vice-president. So, there are two and half power centres. But the BJP is not worried about them."
Singh also criticised Prime Minister Manmohan Singh on economic policies and relations with Pakistan. "When the BJP was in power, inflation was under control and unemployment was at the lowest. India was rapidly progressing. But after the UPA government came to power, inflation and unemployment have gone up. Faulty economic polices, mismanagement and above all the corruption of this government are responsible for the rise in inflation and unemployment," he charged.
"Now, the prime minister talks about continuing with economic reforms. I do not know what is he going to do."
On foreign policy, Singh said, "A small country like Pakistan was daring India by beheading our soldiers but this government is not doing anything."
"They had stopped visa-on-arrival for senior Pakistani citizens after beheading of our soldiers and they restarted it. I want to ask the PM: has Pakistan given an assurance that it will stop exporting terror to India so you started giving visa on arrival," Singh asked.