Modi's friend, billionaire Gautam Adani, called Sardesai and delivered a personal message from the prime minister.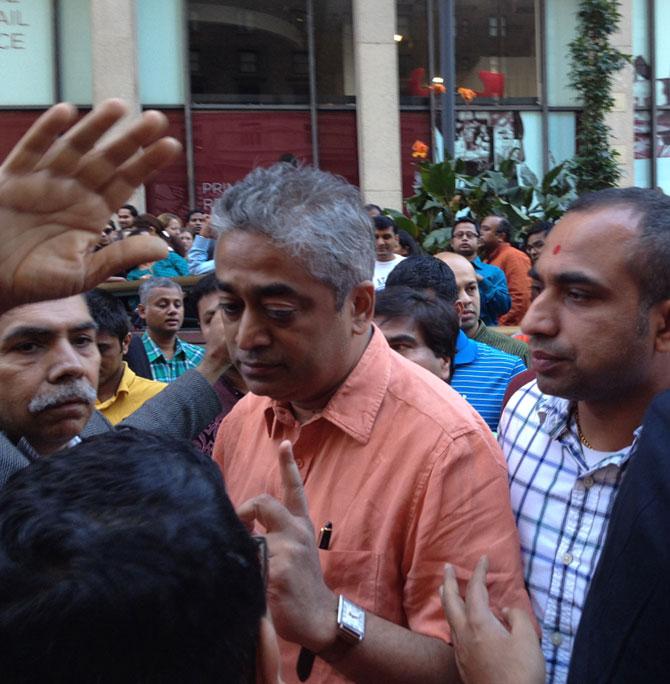 Image: Rajdeep Sardesai being confronted by the hecklers. Photograph: Suman Guha Mozumder/Rediff.com
Prime Minister Narendra Modi has kept silent over rowdy elements within his Bharatiya Janata Party, and among his fans.

But Sunday's incident at the Madison Square Garden in New York when journalist Rajdeep Sardesai was abused and manhandled, forced the prime minister to react.

Modi's friend, billionaire Gautam Adani, called Sardesai and delivered a personal message from the prime minister, stating that Modi was upset over the incident.

Sardesai was abused by a small group of Modi fans and then manhandled moments before the grand event to honour the prime minister commenced at the Madison Square Garden.

Sardesai recently joined Headlines Today as a consultant editor after parting ways with CNN-IBN.
Things were fine initially. Those who recognised Sardesai took scores of selfies with the television celebrity near New York's Penn station.
Suddenly, Sardesai was hit on the back by someone to which he objected.
A small group of people then started abusing him and reportedly told him that he should migrate to Pakistan along with his wife, journalist Sagarika Ghose and his children.

Sardesai objected strongly to this, especially when his children were abused.

He took on the guy threatening him.

Unfortunately, the man who hit Rajdeep was not shot on camera, but subsequent events have been recorded.

Many believe it is time Modi speaks out against such incidents where over-enthusiastic fans have gone berserk.

In recent months, Haryana Chief Minister Bhupinder Singh Hooda and then Maharashtra chief minister Prithviraj Chauhan were hooted in the prime minister's prsence.
---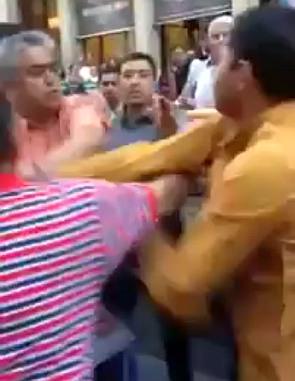 Suman Guha Mozumdar/Rediff.com adds from New York:
A small group of people, some of them dressed in saffron, started yelling at journalist Rajdeep Sardesai outside the Madison Square Garden, the venue of Prime Minister Narendra Modi's community reception on Sunday morning as he stood there with his television crew.
Sardesai, who was standing close to the entrance of the Madison Square Garden, was also pushed around by some people before others intervened.
It was not clear what triggered off the incident. "The prime minister will not be very happy when he comes to know about what you guys are doing today. I am an Indian too and here to cover our prime minister's visit," Sardesai told the people trying to rough him up.
"I think these people still hold a grudge over my reporting after the 2002 riots," Sardesai told this correspondent who was present at the scene.
Some presumably Modi supporters also made disparaging remarks about a group of protestors gathered under the banner Alliance for Justice and Accountability opposite the main entrance of the Madison Square Garden on Seventh Avenue.
Holding banners and buntings, the AJA raised anti-Modi slogans, protesting his alleged divisive agenda.
"The humans are standing on this side of the street and the dogs are on the other side," one person was overheard as saying.
Please click here for full coverage on Prime Minister Modi's US visit.