'I am concerned about what is happening in Gujarat so we submitted a memorandum to him,' said one of the delegation members.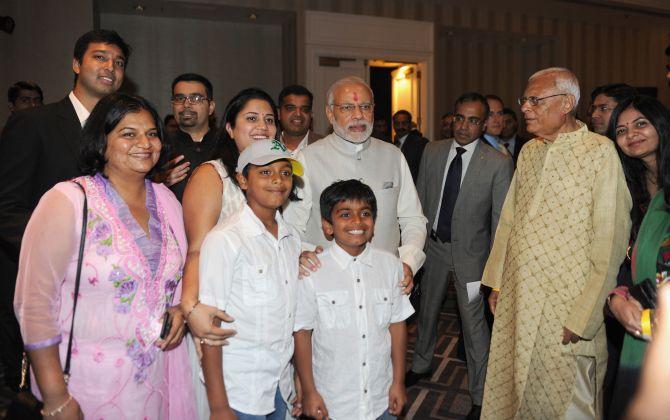 The Patels have decided to call off Sunday's protest after Prime Minister Narendra Modi held a special 15-minute meeting with them at the Fairmont, San Jose, on Saturday. The protest was to be held at the SAPCenter on September 27 during Modi's community reception.
Instead of black flags, there would be an Indian flag and banner welcoming Modi, the group which met him told Rediff.com. Over 700 people had a plan to protest, Paresh Patel, one of the protester who met Modi, told Rediff.com. Patel had come all the way from Los Angeles to stage a protest.
"We were planning to protest because we are against police brutality," Patel said referring to the police action against Patel community protestors in Gujarat seeking inclusion in the reservation list.
Rakesh Bajaria, another protester from Los Angeles who met Modi, said he left India because there was no opportunity. "We want the government to abolish reservations," he said.
Dr Jashu Patel, who led the delegation, told Rediff.com he did not discuss the protest when he met Modi, "but he was aware of who we were and we had communicated with him three days ago". "I am concerned about what is happening in Gujarat," said Dr Patel, "So we submitted a memorandum to him."

This is the text of the letter the delegation handed over to Prime Minister Modi:

Greetings from Patidars of USA.
With great sadness, we are writing this letter in regards to some incidents that have happened, and are still happening in the state of Gujarat, India.
Apparently, we all have seen very disturbing videos and images of police brutality in Gujarat, India, over past one month which had started after unexplained and gruesome police attack on people who were doing peaceful demonstration at GMDC ground, Ahmedabad, Gujarat.
It has been close to a month since this incident happened, and there were many other police brutality incidents happened after that. This includes but is not limited to incidents with senior citizens, children and women who were unarmed or posed no real threat at the time of incident, being wrongfully harmed by improperly trained law enforcement officers, who either lack and/or have no education, training or experience dealing with general public.
As a result, countless innocent people were brutally injured and as many as 9 innocent people have lost their lives.
We are writing to you for your immediate intervention in the following matters, and do the needful to bring back trust of people of Gujarat and assure no such brutality or torture by police in the future.

1) We would like to know who had issued the order to do 'lathi charge' after peaceful rally at GMDC ground, and those whoever were involved need to be hold accountable and responsible for their acts
and strict actions must be taken for their inhumane behavior.

2) We would like to request you to issue financial rehabilitation of those families who have lost their dear and near ones, and also for those who are in ICU or being treated at hospitals due to the police
anarchy and brutalities.

3) We also would like to request that at least one family member of people who died in police atrocities get a government job, so they can have vocational rehabilitation.

4) We would like to see fair trial against all those policemen and officers who issued order for 'lathi charge' on innocent and un-armed public. These kind of acts are considered to be criminal
acts, and people responsible for these acts must be legally prosecuted.

As Indians and Patidars, we have always believed in Sardar Patel's vision of Unity and Peace.
We want to stand united with India, and be a part of successful growth story of India.
We would like to emphasize that government and their officials should be respectful towards general public, regardless of their status/race/caste.
We strongly condemn police actions over past one month where they had targeted senior citizens, children, and women. India is known to be the biggest democratic country in the world, and this kind of acts are not acceptable in our civilized society.
All the brutality videos and images have gone viral over social media which has tarnished India's image all over the world. This can put serious break on yours and our vision of 'Make In India' when foreign investors will feel that there is no stability in India.
Image: Prime Minister Narendra Modi with a delegation of Gujaratis in San Jose, California, on September 26, 2015. Photograph: PIB.