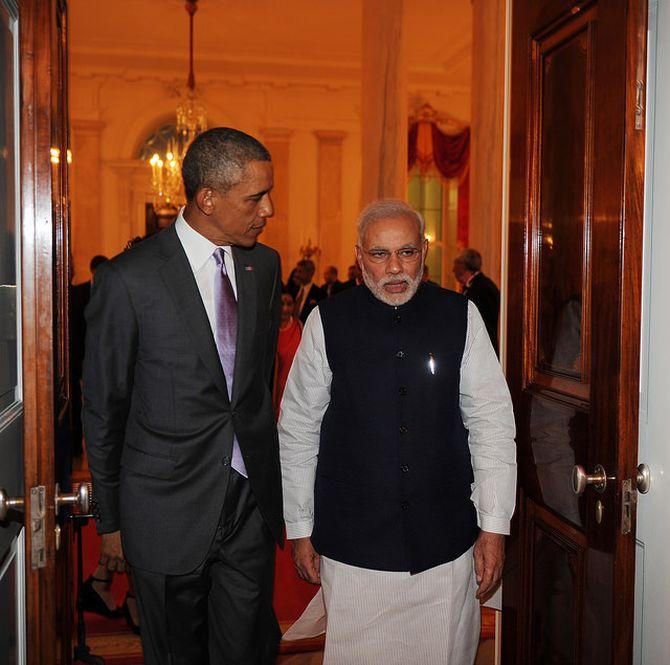 President Barack Obama of the United States welcomes the Prime Minister at the dinner hosted in his honour, at the White House, in Washington DC. Photographs:MEA/Flickr
"Kem Cho" -- this is how US President Barack Obama welcomed Prime Minister Narendra Modi in Gujarati at the doorstep of the White House, ahead of the rare private dinner hosted in his honour.
"Thank you very much, President", Modi responded as the two leaders shook hands and walked inside.
"Kem cho", which means 'how are you', is a common greeting among Gujaratis.
As Obama hosted Modi for dinner, the local Indian-Americans celebrated the Modi-Obama meeting by organising a cultural event and performing "Garba" dance in front of the White House.
Set in an informal ambiance, the dinner was the first opportunity for both the leaders to interact with each other.
Both the leaders were joined by 20 attendees at the dinner. The President was joined by Vice President Joe Biden, Secretary of State John Kerry and National Security Advisor Susan Rice among others.
Modi was accompanied by External Affairs Minister Sushma Swaraj, National Security Advisor Ajit Doval and Indian Ambassador to the US, S Jaishankar among others.
© Copyright 2022 PTI. All rights reserved. Republication or redistribution of PTI content, including by framing or similar means, is expressly prohibited without the prior written consent.