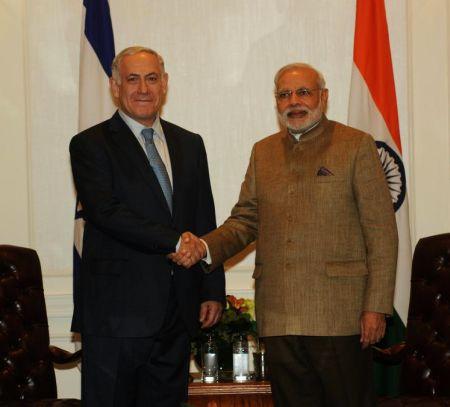 In a hope to improve ties, Prime Minister Narendra Modi met with his Israeli counterpart Benjamin Netanyahu and discussed cooperation in areas ranging from agriculture and water management to defence and cyber security. A Rediff correspondent reports
Hoping to strengthen ties and start a new chapter of cooperation, Prime Minister Narendra Modi met his Israeli counterpart Benjamin Netanyahu on Sunday.
Prime Minister Modi was accompanied by External Affairs Minister Sushma Swaraj. Many issues were discussed; particularly the area of cyber security in which India wants Israel's aid in countering terrorism.
According to Syed Akbaruddin, ministry of external affairs spokesman, both leaders discussed the situation in Gaza, the crisis in the Middle east, water management and the development of cities as well.
Defence ties were also extensively discussed by the two leaders. Presently, Israel is the biggest exporter of arms to India. While talking about arms purchases, Prime Minister Modi also told his counterpart of the 'Make in India' policy through which the PM hopes to manufacture weapons indigenously and also announced the 49 per cent FDI in the defence sector.
Modi and Netanyahu also spoke about both countries' commonalities and potential.
Speaking of the common features, Netanyahu shared that when he visited California, he noticed that most of the software engineers were either from Israel or India and hence, wants both countries to have a greater cooperation in the IT service industry as well.
Further, PM Modi also asked for Israel's help in management of water in 500 cities in India, said MEA spokesman Akbaruddin.
At the end of their talk, Netanyahu invited Modi to Israel.
Please click here for the full coverage of Prime Minister Modi's US visit
Image: Prime Minister Narendra Modi greets Israeli PM Benjamin Netanyahu during their meeting on Sunday. Photograph: MEA/Twitter