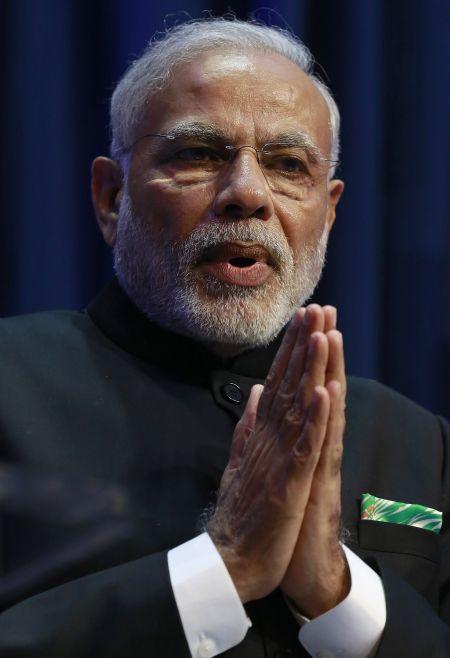 A team of 30 chefs is cooking up an Indian storm with a Californian twist for Prime Minister Narendra Modi and 700 guests for his community lunch being hosted by the Indian consulate at the Fairmont Hotel. Ritu Jha/Rediff.com reports
While there's a huge buzz ahead of Prime Minister Narendra Modi's interaction with the Indian diaspora in San Jose, California, people are also very interested in what the PM will be served for meals.
And for his community lunch event hosted by the Indian consulate at the Fairmont Hotel in San Jose, the PM is being treated to a feast of Indian food, albeit with a twist.
Reshmi Nair, the co-founder of Jalsa -- a catering company -- who has been put in charge of the food for over 700 people, told Rediff.com, "I feel blessed." She said that though there are very strict rules they have to follow, they are very excited to be part of this epic event and are very passionate about what they are doing for the PM's lunch on Saturday.
When asked what's on the menu, Nair said, "We have been briefed that the PM enjoys simple traditional food. So, keeping that in mind and that he is coming to California, which boasts of having fresh and seasonal vegetables and fruits, the affair will be all vegetarian."
Some of the specialities Modi will be feasting upon are Ginger shikanji, mini khandvis, pav bhaji, mini tacos, asparagus kofta, mangodi kadi, paneer edamame and swiss chard.
"The menu for the lunch is traditional Indian food influenced with Californian elements. We will serve green peas burrata tikki -- which is our take on a traditional tikki with green peas and burrata cheese, Pav bhaji which is a very popular street food served on mini taco shells. We are giving the entire menu a Mexican and Indian flavour."
When asked how many people are helping, Nair added that she has a team of 30 associates and chefs working for this event to serve 700 guests.
Elaborating further , she said, "The preparation has started three days ago and each and every dish chosen, depicts the cultural heritage of "our nation and also shows how we can embrace elements that are unique to different countries but still retain its core essence."
And Nair added that they are saving the best for last with Shahi Tukda, gajar halwa, phyllo rolls, butterscotch pudding and chocolate cups will serve out the end of the meal. "And, of course, we have a special request to serve paan and 'chai'," she concluded.