Desis at Madison Square Garden welcomed Narendra Modi with the kind of gusto and reverence unprecedented for any Indian leader visiting the United States. Aziz Haniffa/Rediff.com reports from New York. Photographs: Paresh Gandhi/Rediff.com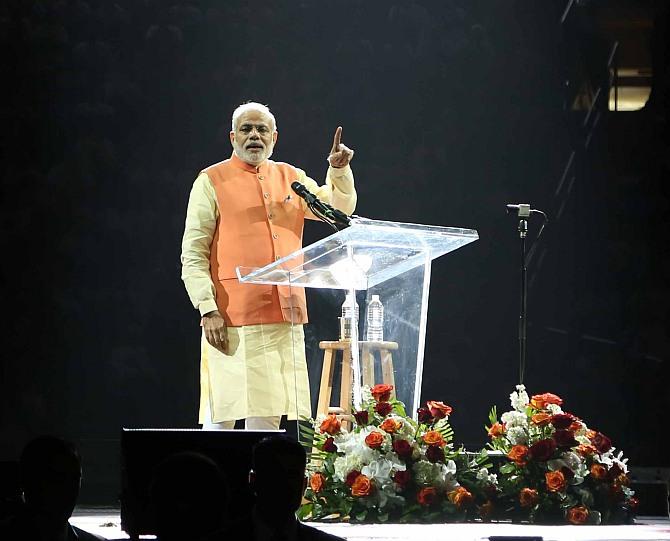 Thousands of die-hard, almost fanatical, supporters of Narendra Modi, who perhaps had wanted to attend his inauguration as prime minister but couldn't, were delivered a miniature replica of the inauguration at New York's Madison Square Garden on Sunday, September 28.

Even before he arrived, Hari Sreenivasan, a PBS news anchor who co-emceed the program with Miss America 2014 Nina Davuluri, reacting to the chants of 'Modi, Modi, Modi,' and the crowd getting to their feet each time a rumour spread that Modi was about to enter, quipped: "Remember, he is already elected, but it is starting to sound like a campaign rally."

The crowd was there in all its splendour and hues and colours, with saffron being expectedly the flavour of the day, with even the sprinkling of Sikhs sporting saffron turbans while a contingent of Bohra men and women who all sat together were in their traditional attire, with men in their white hats and long flowing white robes and the women in their head covering and long gowns of different shades.

Thousands of ticket-holders began to assemble at 6 am (3:30 pm IST) on a mild but sunny Sunday morning with the gates opening only at 8.30 (6 pm IST).

It got progressively chaotic and the VIP ticket holders who had paid anywhere from $1,000 (over Rs 61,000) to $50,000 (over Rs 3 million) to get the choice seats -- about 800 of them to bankroll the extravaganza, which means the other 17,200 could get in free -- began to get angry as the lines did not move for hours.

One individual, seething with anger, kept screaming, "I paid 50 grand ($50,000) and here I am standing in the sun for hours. These guys should have been better organised."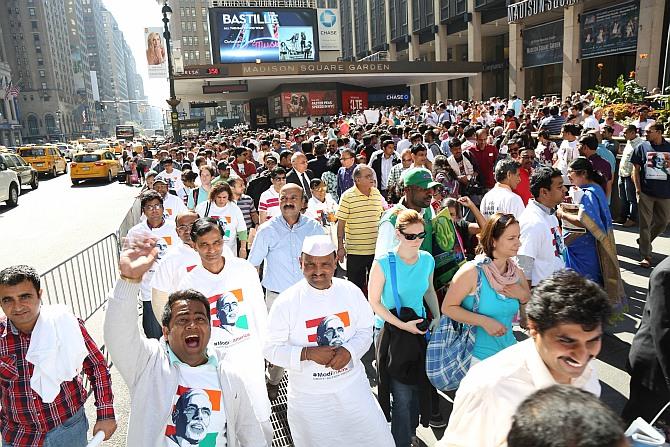 The Indian American Community Foundation, which had been formed by Modi's old friend and fellow Gujarati, Dr Bharai Barai, to organise and run the event, was being staffed by over 800 volunteers and scores of committee working for over two months, and the long lines and the confusion almost seemed like the people may not get in for hours and the schedule was unlikely to be met.

But once the lines got moving and people began entering the area, all of this was quickly forgotten and the anger disappeared as the entertainment got going -- entertainment which was underwritten by billionaire Florida cardiologist Dr Kiran Patel, who along with Dr Barai were running the show.

They had the assistance of several savvy young second generation volunteers run by the founders of IndiaCorps -- Anand and Sonal Shah.

Many in the audience even bought tee shirts for sale as they entered, which said, hashtag Modi in America, with the sub-title, Unity, Action, Progress, which was also emblazoned as the tag line on the giant TV screens in the Garden.

The entertainment was kicked off with a Gujarati folk dance, which had been preceded by hipped up versions of Vande Mataram and Bruce Springsteen's Born in the USA blaring from the speakers.

The chanting, clapping, dancing followed for nearly an hour before at least three dozens of US lawmakers entered to loud cheers, including four Senators and one Governor, the Indian-American Governor of South Carolina, Nimrata 'Nikki' Randhawa Haley, who got the loudest applause, when she was introduced, as did the only Indian- American in the US Congress Dr Amerish 'Ami' Bera, California Democrat, and fellow Democrat Congresswoman Tulsi Gabbard of Hawaii, the first and only Hindu American in the US House of Representatives.

Before introducing each of the lawmakers on the stage, when Sreenivasan announced that the only other Indian-American
Governor, Piyush 'Bobby' Jindal could not make it but had sent greetings, it was met with sustained boos.
And then about an hour behind schedule when Modi entered holding his hands in a
namaste
greeting, the crowd went wild and even some of the lawmakers had their smart phones out snapping photographs of the former Gujarat chief minister who in 2005 had been banned from entering the US for his alleged condoning of complicity in the pogroms against Muslims in the 2002 communal riots.
But after his landslide victory in the general election in May, here he was being welcomed with the kind of gusto and almost reverence unprecedented for any Indian leader visiting the United States -- for that matter any foreign leader, perhaps only to be eclipsed when Pope Francis comes to the US.
A
fter Modi took centre-stage for a while and continued with his
namaste
, with the US lawmakers cheering him on as the standing ovation and chants of 'Modi, Modi, Modi' grew even more shrill.
The lawmakers were ushered off the stage and it was then all unadultered Modi for 90 minutes straight, on a rotating stage, and here he was fasting for nearly seven days, working the crowd with each passing minute.
Ever the politician, and well aware of how humour can be the most potent catalyst to get the crowd going, he said, India had been known as the land of snake-charmers, and when he was once in China, a journalist had asked him if he could ask a question, but repeatedly despite Modi telling him to go right ahead, had peppered him with caveats if he would be offended.
Finally when the question was asked, it was whether India was still called the land of snake-charmers, to which Modi said he had replied, 'We have given up the snake for the mouse.'
He also invoked Mahatma Gandhi several times, although once again calling him incorrectly 'Mohanlal Gandhi' It was all about Gandhi's fight for Indian Independence being also a fight for cleanliness, which he said was Gandhi's mantra second only to his fight for independence, and here he used it to push to for the cleansing of the Ganga.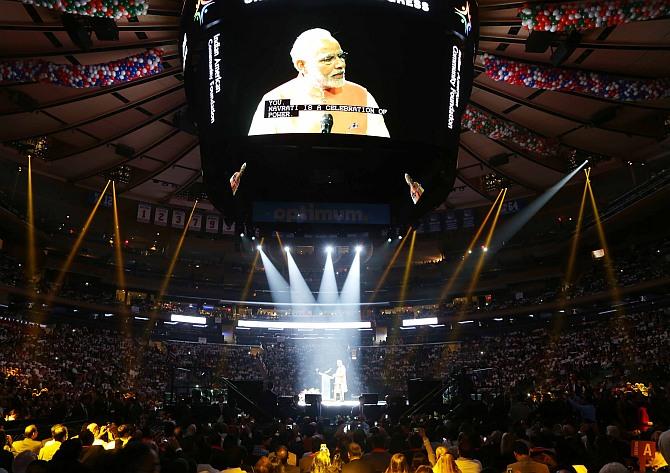 M
odi, obviously aware, that even though they were fawning supporters, were particularly vexed over issues of visas when trying to visit India, using the opportunity to take a crack at his own denial of a visa, said, "Yes, I know there are problems, visa problems, and even though I am more than thousands of miles away, know your pain." And the crowd roared.
But he was keeping the best to the last, when he said, he would move quickly in the next few months, to resolve the visa problem and announced that the Person of Indian Origin and the Overseas Citizen of India card would be merged, and PIO card holders would be given a lifetime visa, and then egged on the crowd, saying, "Are you happy?"
He also said American tourists would be given a visa on arrival and Indian Americans, who intended to stay on for a longer period, need not have to report to police stations to apprise authorities of their intent to extend their stay.
A
s he wound up his marathon speech, Modi also said how eternally grateful he was to the Indian-American community for always being there for him for the past 15 years declaring, "From the core of my heart, I have gratitude for all the love you give me and I will really endeavour to make India the India of your dreams."
And, in the final minutes, he revved up the crowd, with exhortations of "Bharat Mata ki Jai!" and when the crowd was not showing the same measure of frenzy, which was evident at the beginning and through much of his speech, he said, "I am the one fasting, clench your fists and show your enthusiasm."
Once again, the audience responded with the kind of fervour and frenzied reaction that you seemingly find only at some of the biggest religious pilgrimages the world over.