Prime Minister Narendra Modi on Friday addressed the Indian community at the packed Wembley Stadium in London.
Over 60,000 members of the Indian community gathered at the stadium and is billed as the biggest reception for PM Modi abroad.
The crowd gathered here chanted Modi's name throughout the 80-minute speech.
Rediff.com takes a look at the top quotes of Prime Minister Modi from his address to the Indian Diaspora.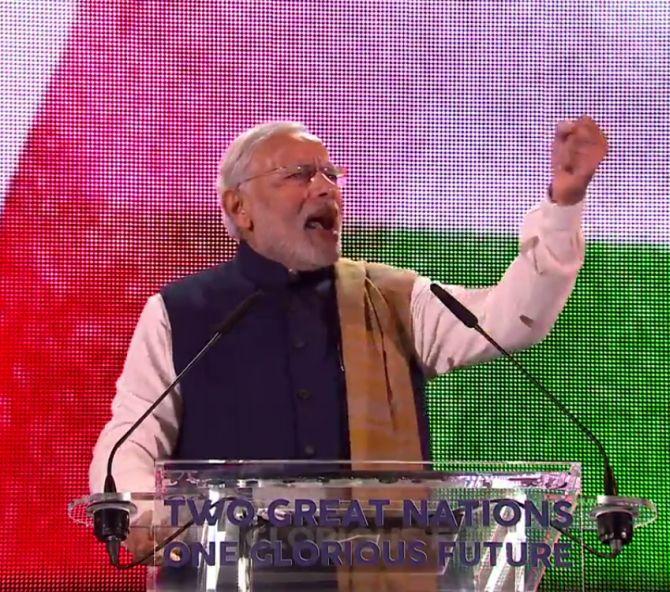 1. Show me one Indian who is not proud when they see Mahatma Gandhi's statue outside the British Parliament.
2. India is full of diversity. This diversity is our pride and it is our strength. People are surprised to see such a diverse nation as ours live in harmony.
3. Agar Sufi parampara balwaan hui hoti, Islam mei jisne Sufi parampara samjhi hoti...woh haath mei kabhi bandook nahin leta. (If Sufism had been allowed to have more influence on Islam, no one would have ever taken up a gun in their hands.)
4. Hum duniya se meherbaani nahin chahatein, hum chahatein hain barabari. (We don't want world's charity, we want equality.)
5. You all are true ambassadors of India in UK. Wherever we go we show people how to live in harmony, how to care for everyone around.
6. If even after so many years of independence there are villages with no electricity, should I not work to change that? 18,000 villages in India need electricity. In next 1,000 days we will ensure they get it.
7. FDI into India has increased by 40 per cent. We want to balance the two FDIs -- Foreign Direct Investment and First Develop India.
8. We want to turn India into surya putra rashtra (land of solar power).
9. Never think that India is what you see on TV screens. India is much better than that. There is one Imran Khan in Alwar who made 50 apps to help students' education. My India resides in people like him.
10. Jab tak suraj chand rahega, jab tak samay ki gati chalegi, Bharat aur UK ka naata aur gehera hoga. Aapke passport ka rang jo bhi ho, mera aur aapka naata humare khoon ke rang se juda hua hai. (Till the heavens last, till time ticks on, the relationship between India and UK will continue to deepen) Let us all participate in India's journey towards development.