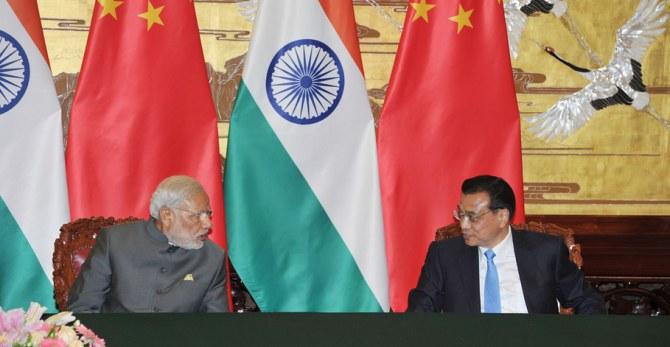 Prime Minister Narendra Modi and Premier of the State Council of the People's Republic of China, Li Keqiang at the signing of agreements in Beijing, china. Photograph: MEA/Flickr
Prime Minister Narendra Modi on Friday said both India and China face the threat of growing extremism and terrorism whose source 'is in the same region', in a veiled reference to terror networks in Pakistan.
Modi, while addressing students at the Tsinghua University in Beijing, asserted that India and China face instability in their 'shared neighbourhood' that can threaten the security and slow down the economies of the two countries.
ALSO READ: Beyond great 'optics', no great push in Indo-China ties
"The spreading tide of extremism and terrorism is a threat we both face; for both, its source is in the same region," he said in an apparent reference to the cross-border terrorism faced by India and China originating in Pakistan.
Terror strikes in India such as the 26/11 Mumbai attacks have often been traced to Pakistan while unrest in China's Xinjiang province is many times linked to separatists trained in camps in Pakistan.
"We must also deal with the changing character of terrorism that has made it less predictable and more diffuse. We source a large part of our energy from the same region that faces instability and uncertain future," Modi said.
Modi, who also held wide-ranging bilateral talks with his counterpart Li Keqiang, said not only the bilateral cooperation between India and China is important but also their international partnership is crucial to each other's success.
After talks between Modi and Xi, the two sides issued a joint statement which also made a reference to terrorism, strongly condemning it in all its forms.
"Both sides reiterated their strong condemnation of and resolute opposition to terrorism in all its forms and manifestations and committed themselves to cooperate on counter-terrorism," the joint statement said.
"They agreed that there is no justification for terrorism and urged all countries and entities to work sincerely to disrupt terrorist networks and their financing, and stop cross-border movement of terrorists, in accordance with the relevant principles and purposes of the United Nations Charter and international laws," it said.
India and China also called for an early conclusion of negotiations on the Comprehensive Convention on International Terrorism.