Inaugurating the Centre for Gandhian & Indian Studies at Fudan University in Shanghai, the PM said that if China and India worked together it would benefit the entire world.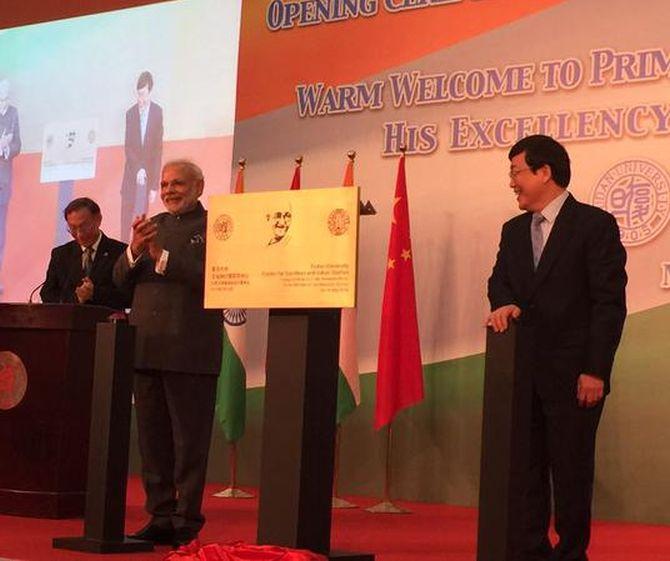 Pitching for cooperation between India and China, Prime Minister Narendra Modi on Saturday said the two should together touch new heights of progress to eliminate poverty which will benefit the entire world as one-third of global population lives in the two countries.
Launching the Centre for Gandhian & Indian Studies at Fudan University in Shanghai, he said India and China have historical and civilizational ties and they can together create a world that serves the humanity.
The PM, on the third and last day of his China visit, invoked Mahatma Gandhi and said solutions to the major crises of the present world -- terrorism and global warming -- lie in his teachings.
"It is said that 21st century belongs to Asia. One-third of the world population belongs to these two countries. So if India and China work together to eliminate poverty, one-third of the global population will be rid of this problem which will be beneficial for the entire world," Modi said addressing the students and faculty of the University in Hindi.
"Therefore, India and China should together touch new heights of progress involving sensitivity towards humanity and philosophy of Lord Buddha and experiments of Mahatma Gandhi so that we can give to the world a system which is dedicated to welfare of humanity," he said.
Invoking Mahatma Gandhi, Modi said, "The world today is going through two major crises -- global warming and terrorism. Solutions to both lie in Gandhi's teachings. Gandhi is still relevant."
"Mahatma Gandhi may have been born in a corner of India but he was a global citizen," Modi said, adding that the apostle of peace could have shown the way out of the crises that the world is going through today.
At the event where a Chinese student recited Sanskrit 'shlokhas', Modi said the basic philosophy of India has been to let knowledge come from all directions.
"There is no east or west for knowledge. It is global. Any kind of knowledge benefits the humanity," he said and referred to the Gita's teachings which says that one should keep working without bothering about results.
The PM then noted that both India and China have been seekers of knowledge and referred to the great Chinese traveller Huein Tsang who had come to India centuries ago.
"If we see history of India and China, both were seekers of knowledge, people in both the countries used to take pain to acquire knowledge," he said.
Talking about Huien Tsang's travels, he highlighted how much risk used to be taken for knowledge. "It is easy to open doors for business and tourists. But to open doors for knowledge, requires lot of inner courage because of fears that some other knowledge may influence us," Modi said.
He said while relationships based on economy benefit the current set up, ties based on knowledge benefit ages.
Image: PM Modi at the inauguration of the Centre for Gandhian & Indian Studies at Fudan University in Shanghai. Photograph: @PIB_India/Twitter