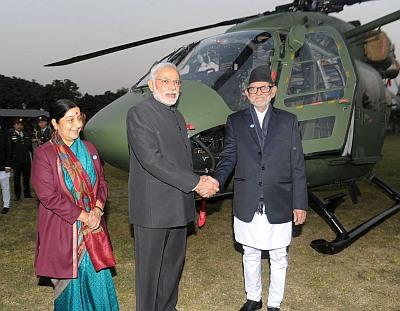 Prime Minister Narendra Modi on Tuesday held talks with his Nepalese counterpart Sushil Koirala on key strategic issues after which ten agreements, including a pact on $1 billion assistance to Nepal, were inked.
A host of strategic issues, including defence and security, were discussed between Modi and Koirala during their talks that lasted for nearly 40 minutes.
Talking about bilateral ties, Modi said, "When we trust each other, we can move forward very quickly."
"Projects that have been in limbo for 25 years are moving forward. I feel very satisfied," he said after inaugurating the trauma centre built by India at Kathmandu's Bir Hospital.
Following the talks between the two leaders, the two sides finalised terms of the $1 billion Indian assistance for Nepal's infrastructure development, which was announced by Modi during his August visit.
The agreement for the $1 billion Line of Credit to Nepal was signed between Nepal's Finance Ministry Joint Secretary Madhu Kumar Marasini and David Rasquinha, the deputy managing director of Exim Bank.
Modi, who arrived in Kathmadu earlier on Tuesday for a three-day visit, will attend the two-day 18th SAARC Summit beginning on Wednesday apart from holding bilateral meetings with other SAARC heads of state and government.
India and Nepal signed the Motor Vehicle Agreement under which permit would be given to vehicles to ply on designated routes in each other's country.
They also inked three twin-city pacts between Kathmandu-Varanasi, Janakpur-Ayodhya and Lumbini-Bodh Gaya.
The 10 agreements signed between the two countries include, MoU on training at Nepal Police Academy, MoU on Tourism, MoU Traditional Medicines and MoU on Youth Exchange.
A MoU was also signed on a project development agreement over the 900 megawatt hydro-electric project on the Arun river in Nepal.
India also gifted Nepal mobile soil testing lab that will boost soil health monitoring and adoption of best agricultural practices.
Earlier, Modi made a strong pitch for the early drafting of Nepal's Constitution, saying if the country fails to do so it may get into "difficulties".
"I request all political stakeholders to draft the Constitution by early next year as committed through consensus which will reflect aspirations of all communities, including Madhesis, Pahadis and Maoists... failing to do so can cause difficulties to Nepal and your difficulty despite our expertise to help you in this field is a matter of sadness," Modi said.
He said India will not like to interfere but having expertise and not being able to help Nepal from getting into difficulty will be sad.
Modi's remarks came after Nepalese Prime Minister Koirala expressed confidence that Nepal will be able to draft its Constitution by early next year.
Modi's comments calling for speedy drafting of Nepal's Constitution came after he inaugurated the trauma centre built by India at Kathmandu's Bir Hospital.
The 200-bedded centre is a Rs 1.5 billion project of the Indian government. The centre will have 150 beds in the trauma ward, six operation theatres, 14 ICUs, eight resuscitation rooms and beds for emergency observation, 10 examination cubicles in the outpatient department and a triage area.
The foundation of the centre was laid by former Prime Minister I K Gujral in 1997.
Noting that a lot of decisions have made progress since his last visit in August this year, Modi said that Nepal's happiness and satisfaction on implementation of these projects gives India a reason to smile.

As a symbol of shared Buddhist heritage, Modi gifted a sacred Bodhi tree sapling to be planted in Lumbini, the birthplace of Lord Buddha.
"I have brought a sapling from Bodh Gaya which will be planted by our Ambassador in Lumbini," Modi said.
The sapling would be planted on the premises of Maya Devi temple in Lumbini on November 28.
The Bodhi Tree at the Mahabodhi Temple in Bodhgaya, Bihar, is the exact place where Prince Siddhartha attained enlightenment 2,600 years ago and became the Lord Buddha.
Showing India's commitment to strengthening ties, Modi also handed over to Nepal an Advanced Light Helicopter which will be used for military and civilian operations.
Prime Minister Modi and Koirala flagged off the Kathmandu-Delhi bus service called Pashupatinath Express.
Before the flagging off, both the Prime Ministers hopped into the bus and interacted with the travellers of the bus, which was decorated with streamers, balloons and flowers.

Image: Prime Minister Narendra Modi handing over the Dhruv ALH to Nepal Army, at Army Pavilion, in Kathmandu, Nepal, on November 25, 2014. External Affairs minister Sushma Swaraj is also seen.
Photograph: Press Information Bureau