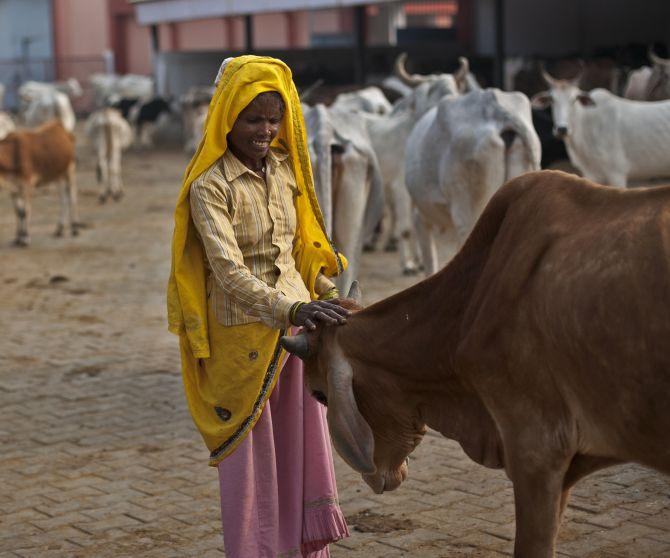 In his first public denouncement of cow vigilantes, some of whom flogged Dalits in his home state Gujarat, Prime Minister Narendra Modi on Saturday said he felt enraged at such "anti-social elements" who indulged in crimes by the night and masqueraded as cow protectors by the day.
Amid the continuing outrage over the brutal flogging of four Dalit men by cow brigade members in Gujarat, the prime minister said real cow protectors do not terrorise people and that some criminal elements has opened "shops" in the name of cow protection.
To prevent violence in the name of cow protection, he urged state governments to prepare "dossiers" on such so-called cow protectors and put them on a tight leash.
"I feel infuriated at some people who have opened shops in the name of cow protection. I have seen that some people who commit anti-social activities through the night, don the mantle of cow protectors by the day.
"I urge the state governments to prepare a dossier of such self-proclaimed volunteers and big cow protectors. It will be found that 70 to 80 per cent are such people who commit such bad deeds which society does not accept. To hide their bad activities, they don the mantle of cow protectors," he said, in his first public snub to the vigilantes perpetrating brutalities in the name of cow protection.
Modi said volunteer groups and organisations are not meant to "terrorise and brutalise people" and should instead inculcate in themselves the feeling of compassion and sacrifice to do social work.
"For doing good work and social service, one does not need the prime minister to deliver a speech," he said, asking people to help the poor of their own accord.
Modi's denounced the cow vigilantes during his Townhall-style address to mark the second anniversary of his government's MyGov initiative.
His comments come at a time when his government and the Bharatiya Janata Party are facing flak over incidents of violence against Dalits and Muslims by cow vigilantes in various states including Uttar Pradesh, Gujarat and Madhya Pradesh.
Noting that more cows die from consuming plastic than from slaughter, he said those who want to serve the animal should rather work towards stopping cows from eating plastic as that will be a bigger service.
Recalling his own work in the service of cow, he said at one health camp organised by him for the animal, at least two buckets full of plastic were removed from the stomach of one of them.
On the foreign policy front, the prime minister said "India first" is the central point of his government's diplomatic engagements.
"India first is the central point (of our foreign policy). It is about protecting India's strategic interest, it is to ensure that India marches forward in achieving economic prosperity by leaps and bounds and reaches the position which it is destined to reach," Modi said.
The PM said time has changed and world has become interdependent, and no country can afford to live in a particular group.
"The time of grouping has come to an end. Every country is linked to some other country," he said, adding walking together in most cases has become the norm.
Showering praise on the Indian diaspora, he said they can play an important role in strengthening India's ties with foreign countries and we should utilise their strength.
"The diaspora community has become very proactive, assertive and they can help in improving ties with many countries. India is making its place (in the world) with new energy and prestige," he said.
Answering a query on India's external engagement, Modi said there was no need to use words like aggressive, progressive and proactive in talking about the country's foreign policy which the questioner had used.
The prime minister also took a dig at the opposition for giving him advice day and night and said while he progressed in politics hearing all kinds of criticism, there are many who get fever if criticised as they are not used to it.
"We should all accept criticism and draw lessons from it," he said.
Modi also took on the opinion makers for holding him responsible for everything happening even in a panchayat or the civic body of a state and termed it as "unfortunate".
"It is unfortunate in our country that some opinion makers will question the PM for anything happening in a panchayat, zila parishad, nagar palika, municipal corporation even in a state, they will demand a reply from the prime minister.
"Politically it is OK, it is probably ok for TRP also. If prime minister is made to suffer, it is a good thing as it should happen in a democracy. But its ill-effect is that people do not realise their responsibilities and due to it governance suffers badly. There should be accountability in governance," he said.
Modi said governments often think only about winning the next election and then their policies are also shaped accordingly.
He said the spirit of democracy is incomplete if one thinks that the citizen's role ends with voting and stressed upon participative democracy.
On the health front, Modi talked of laying emphasis on preventive health care and said his government will soon come out with a health insurance scheme which was talked about in the budget.
"We are moving forward towards introducing an insurance scheme. We talked about it in the budget. We are bringing it in the next few days. We will bring in the next few days not just health assurance, but also health insurance that will benefit people," he said.
Photo used for representational purposes. Photograph: Allison Joyce/Getty Images