Even as people lined up for the final time to deposit their old notes in banks, Lalu Yadav launched a scathing attack on the PM over his demonetisation scheme. M I Khan reports.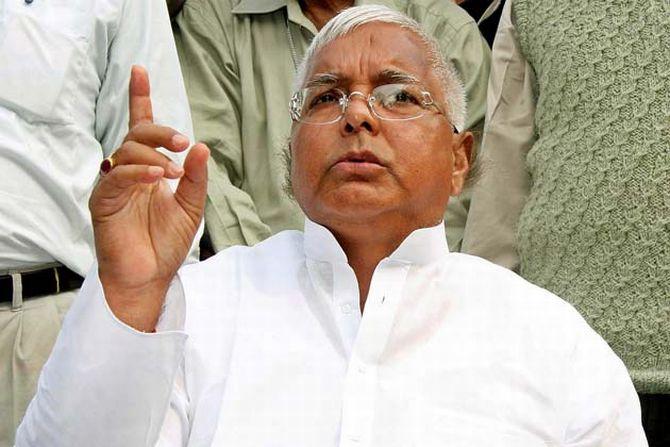 Rashtriya Janata Dal chief Lalu Yadav on Friday targeted Prime Minister Narendra Modi saying that the prime minister has taken out the 'lungs, liver, kidney, intestines, blood out of the body of the Indian economy'.
The attack came on the final day that people can deposit their old Rs 500 and Rs 1000 notes in the banks as part of the PM's demonetisation scheme.
The RJD chief in his scathing criticism of demonetisation said that it had not only derailed the country's economy, but also affected the poorest of the poor in a way that no one could imagine.
"If the lungs, kidney, liver, etc is taken out of your body, would you be able to survive? That is what has been done to our economy," Lalu wrote on his Twitter account.
In another tweet, Lalu said that the PM should be realistic. "To cover (people's) endless sufferings by senseless moves, he is talking baseless about things like cashless."

"Does Modi know how many times he has chopped and changed his own decisions in the last 50 days? He is totally clueless, puzzled and jumping here and there," Lalu said.

The RJD chief further stated that demonetisation had failed and the common man had been affected severely while the super rich and the corporates were enjoying life without any trouble.
The senior Bihar leader has already launched a protest against demonetisation in his state and has urged people to join his 'Modi hatao, desh bachao' campaign.

Lalu said people in the entire country have been facing problems after demonetisation. "Prime Minister Narendra Modi has cheated the country. Desh ka arth-vayvastha ko notebandi ne chaupat kar diya hain."
Speaking of the future Uttar Pradesh elections, Lalu said Modi and his party, the Bharatiya Janata Party, would taste defeat, as the people are angry and unhappy. "BJP will be defeated in Uttar Pradesh just as they were in Bihar."
Talking of how demonetisation has affected jobs, Lalu said that large number of migrant workers from Bihar has returned home after factories shut down. "More than any one, the poorest of the poor have been badly hit by demonetisation. Poor are struggling to survive."