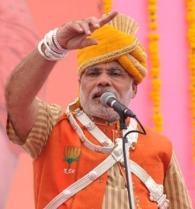 A political uproar erupted on Friday over Gujarat Chief Minister Narendra Modi's controversial remarks on the 2002 riots. "If we are driving a car or someone else is driving a car and we're sitting behind, even then if a puppy comes under the wheel, will it be painful or not? Of course it is. If I'm a chief minister or not, I'm a human being. If something bad happens anywhere, it is natural to be sad," he said in an interview to Reuters.
Hitting out at Modi, the Congress demanded that he immediately apologise to the nation, as his words are "totally against the idea of India." "Thousands of people were killed in the communal riots in Gujarat in 2002 and in the backdrop the analogy used by Narendra Modi needed to be strongly condemned. There is no place for such a comparison in civilised India," party General Secretary Ajay Maken told reporters.
"It is reflective of his perverse mindset. It is totally against the idea of India.... We are unable to understand as to what is the intention of raising such things before the elections," said Maken, who is the head of the All India Congress Committee communications department.
The Samajwadi Party, Communist Party of India-Marxist, CPI and Janata Dal-United said Modi had compared Muslims to a 'puppy' and should apologise for the "humiliating" remarks. The Bharatiya Janata Party, which was put on the backfoot by the comments, insisted that Modi's remarks had been "misinterpreted" with an aim of "appeasing a particular community".
SP spokesman Kamal Farooqui took strong exception to Modi's comment that even "if a puppy comes under the wheel" of a car, he would be sad.
"It is a very sad, very humiliating and very disturbing statement... What does he (Modi) think, that Muslims are worse than even puppies? He does not have a heart for them. He should feel sorry... He should apologise," Farooqui said.
"He (Modi) should be ashamed for using such a language," the SP leader said, adding, "the earlier he apologises, the better it will be. Otherwise, there will be dangerous consequences."
Attacking the Gujarat CM, CPI-M leader Brinda Karat said, "The expression of regret just doesn't come to Modi....There is something wrong fundamentally what he is saying." She said Modi "has been justifying that genocide in different ways. Whether it is a genocide, whether it is a cold-blooded murder, whether it is in the name of encounter, whether it is hushing up those cases and trying to promote those who were involved in it from beginning to end....It is a governance that has in it certain components which are against the Constitution of India and against basic human principles."
CPI leader D Raja described Modi's comments as "desperate attempt to deceive people and hoodwink the Indian masses."
Shivanand Tiwari, leader of BJP's long-time former ally JD-U, slammed Modi and said "psycho-analysis should be done on him". He added that it would be a "very dangerous situation if a person of such a person becomes the country's Prime Minister." Tiwari also attacked Modi for saying he was "proud" to be a Hindu. "This statement means that Modi does not wish to take others along."
BJP spokesperson Nirmala Sitharaman sought to defend Modi, saying his comments had been "misinterpreted" completely, resulting in a "controversy where it does not exist". Describing the controversy as "absolutely despicable", she said, "I appeal to all to read the interview in full and not to speak out of context. It is risky.
On the 'puppy' comment, she said Modi meant that anybody would feel sad even if a human being comes under a car. Reacting to the controversy, Sitharaman said, "Clearly this is done with an intention to appease a particular section. It is part of the Congress vote bank politics. It is part of the Congress strategy before elections."
Senior CPI leader A B Bardhan said Modi cannot absolve himself of his responsibility as he was at the helm of affairs when the Gujarat riots took place. "Modi was the chief minister of the state when riots took place. If this is how the chief ministers talk about their responsibilities, they are playing tricks with the people. They don't assume responsibility when the law and order breaks down. This cannot absolve him of the responsibility."
Referring to Modi's comments using the puppy analogy, Bardhan wondered whether the Gujarat chief minister was an innocent passenger in the car and that whether he did not know who was driving it. "Was he an innocent passenger in the car? Who was driving the car. The chief minister sits in the car and he does not know who the driver is," Bardhan questioned, on why Modi has not been able to catch the real culprits behind the Gujarat riots.
SP Leader Naresh Agrawal said, "It is very clear who the culprit is. Anyone who is the culprit and which ever position he is occupying should be punished."
© Copyright 2021 PTI. All rights reserved. Republication or redistribution of PTI content, including by framing or similar means, is expressly prohibited without the prior written consent.