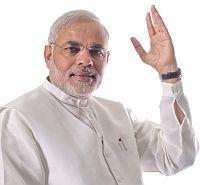 The controversial Gujarat Lokayukta bill, which curtails the primacy of the Governor and high court chief justice in the appointment of the anti-corruption ombudsman, was on Tuesday passed by the assembly amid protests from the opposition Congress.
Congress dubbed the Gujarat Lokayukta Aayog Bill, 2013 as a ploy by the Narendra Modi government to keep corruption under wraps.

The legislation was passed by majority vote after the Congress walked out of the House.
Apart from curtailing the power of the Governor and the chief justice, the bill's character has remained same as the existing Lokayukta Act 1986, which has been held as a "toothless piece of legislation" by some legal experts.
The Bill passed two years after Governor Kamala Beniwal returned a Lokayukta amendment bill, proposes to give all the powers of the appointment to a selection committee headed by chief minister and wants the Governor to act on its recommendations.

The chief justice virtually has no role under the new bill.
Under the existing Lokayukta Act, the power of selection of Lokayukta rests with Governor and the HC chief justice.
The new Bill came after the state government lost a bitter fight legally and politically when Governor Kamala Beniwal, bypassing the state government, appointed Justice R A
Mehta as the state Lokayukta, which was upheld by the high court as well as the Supreme Court in January this year.
The Apex court had ruled that "primacy" of the opinion of the chief justice n the Lokayukta Act was final.
The existing Lokayukta Act and the Lokayukta Aayog Bill both have given power to Lokayukta to merely report their findings to competent authorities, but they have no power to take penal actions.
Leader of Opposition Shankarsinh Vaghela opposed the Bill, saying "the state government is afraid that Lokayukta Justice Mehta will expose the corruption of the government".

Vaghela alleged the bill is just a delaying tactic so that they do not have to appoint Justice R A Mehta as Lokayukta.
As per the provision (Sec 12(8)), whoever discloses to the public or to the press any information or publishes such information in contravention of the provisions of this section should invite two years' imprisonment and also the fine of Rs 2 lakh.