Prime Minister Narendra Modi on Friday embarked on a tour of Japan, Papua New Guinea and Australia to attend three key multilateral summits including that of the G7 grouping and Quad.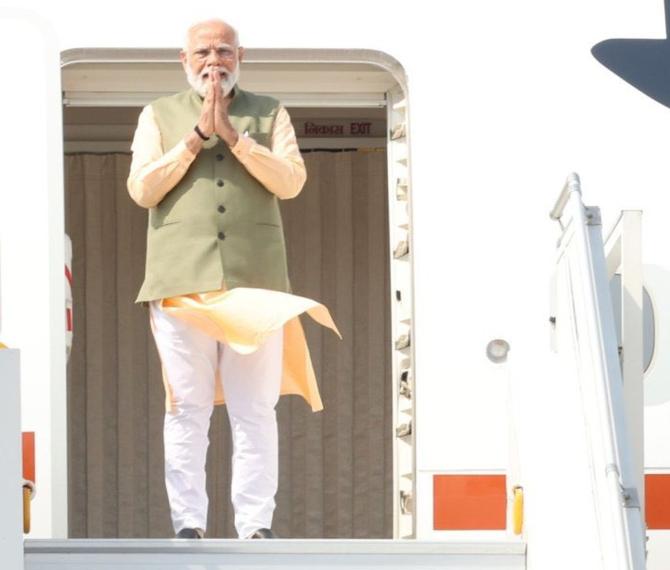 In the first leg of his trip, Modi is visiting the Japanese city of Hiroshima from May 19 to 21 primarily for the annual summit of the G7 advanced economies in which he is expected to speak on challenges facing the globe, including food, fertiliser and energy security.
From Japan, Modi will travel to Port Moresby in Papua New Guinea where he will host the third summit of the Forum for India-Pacific Islands Cooperation (FIPIC) on May 22 jointly with Prime Minister James Marape.
In the third and final leg of the trip, Modi will visit Australia from May 22 to 24.
The Quad summit was originally scheduled to be held in Sydney but it will now take place in Hiroshima as US President Joe Biden postponed his visit to Australia to focus on crucial debt-ceiling talks in Washington.
'PM @narendramodi embarks on a visit to Japan, Papua New Guinea & Australia. First leg of the visit takes him to Japan for the @G7 Summit. An opportunity to engage with important partners in multilateral and bilateral formats,' External Affairs Ministry spokesperson Arindam Bagchi tweeted.
In a departure statement, Modi said his presence at the G7 summit would be particularly meaningful in view of India's G20 presidency.
'My presence in this G7 summit is particularly meaningful as India holds the G20 presidency this year. I look forward to exchanging views with the G7 countries and other invited partners on challenges that the world faces and the need to collectively address them,' Modi said.
'I would also be holding bilateral meetings with some of the leaders attending the Hiroshima G7 summit,' he said.
Modi's visit to Papua New Guinea will be the first ever by any Indian prime minister.
'I am grateful that all 14 Pacific Island Countries (PIC) have accepted the invitation to attend this important summit (FIPIC),' Modi said.
FIPIC was launched during his visit to Fiji in 2014.
'I look forward to engaging with the PIC leaders on issues that bring us together, such as climate change and sustainable development, capacity building and training, health and well-being, infrastructure and economic development,' Modi said.
On his visit to Australia, the prime minister said he was looking forward to meeting his Australian counterpart Anthony Albanese.
'I look forward to our bilateral meeting, which will be an opportunity to take stock of our bilateral ties and follow up on our first India-Australia annual summit held in New Delhi in March this year,' Modi said.
'I will also interact with Australian CEOs and business leaders, and meet the Indian community in Sydney at a special event,' he said.