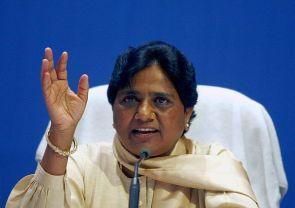 Bahujan Samaj Party supremo Mayawati on Thursday said Narendra Modi could change the secular credentials of the Constitution on the pretext of reviewing it and give it "Hindutva colour", if he came to power.
Making a scathing attack on the BJP prime ministerial candidate, she said, "If Modi becomes the prime minister, the country would face riots," and apprehended that on the pretext of reviewing of the Constitution, the BJP leader could change its secular credential to "Hindutva constitution".
Addressing a public meeting here, Mayawati alleged that all the political parties except BSP were conspiring to snatch the reservation facility granted to the Scheduled castes and Scheduled tribes from the Constitution.
She blamed the Congress and BJP for the bad state of affairs in the country even after 65 years of independence.
Mayawati asked Muslim voters to vote for her party to stop the BJP coming to power as her party alone was capable of checking the saffron party in the state.
© Copyright 2022 PTI. All rights reserved. Republication or redistribution of PTI content, including by framing or similar means, is expressly prohibited without the prior written consent.