The prime minister in a rally in Tumakuru earlier also said that the Congress needs to be punished for ensuring Karnataka has a better future.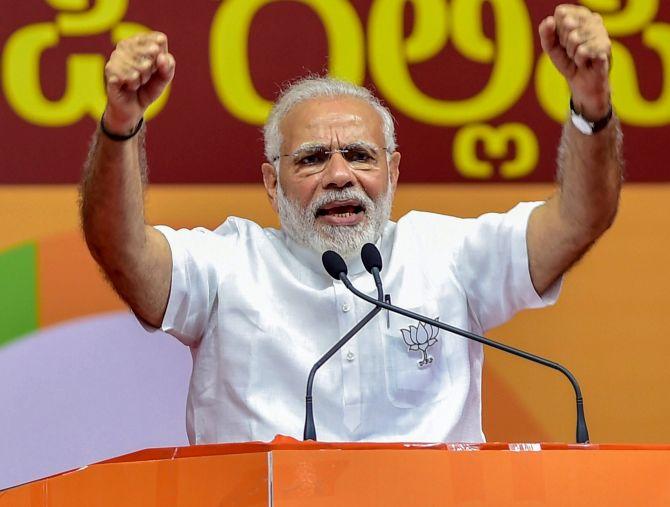 Escalating his attack on the Congress over "corruption and arrogance", Prime Minister Narendra Modi said on Saturday the party whose flag once fluttered "from Panchayat to Parliament" will become "Punjab, Puducherry, Parivar" Congress after its impending defeat in Karnataka.
With the D-day for the polls drawing closer, Modi upped the ante against the Siddaramaiah government, alleging it has become a "corruption tank" for the Congress with a pipeline connected to Delhi, "where the money reaches directly".
He also accused the top Congress leadership of auctioning tickets, party positions and even the chief minister's post.
"After May 15 (when poll results will be declared), Indian National Congress will be reduced to 'PPP Congress'-- P for Punjab, P for Puducherry, and P for Parivar (family)," Modi told an election rally in Gadag, where he predicted the state's ruling party would be decimated in the elections.
He accused the Congress of "auctioning" party tickets and posts, and recalled how a string of scams rocked the erstwhile United Progressive Alliance government.
Modi said despite a string of electoral losses in Maharashtra, Goa, Gujarat, Rajasthan, Madhya Pradesh, Chhattisgarh, Uttar Pradesh, Uttarakhand, Himachal Pradesh, and Tripura the Congress was not as worried as it is now when defeat stares it in the face.
"I tell you why... Because their ministers and leaders in Karnataka have built a tank here. A part of money looted from people is taken home and the rest is put in that tank. The tank is linked to Delhi through a pipeline which carries the money directly to Delhi.
Modi, who addressed four back to back rallies at Gadag, Tumakuru, Shivamogga and Mangaluru, said it was because of Congress's arrogance that the party, which ruled almost the entire country, was losing ground.
"The party whose flag fluttered across the country -- from Panchayat to Parliament...which had 400 MPs...its fortresses are falling, one after the other. Without power, it is like a fish without water. Congress's arrogance did it in.
Democracy does not brook arrogance," he told a rally in Mangaluru.
Taking a swipe at the Congress for its oft repeated accusation that the Centre and the Bharatiya Janata Party got electronic voting machines manipulated for winning elections, Modi said the rival party found nothing wrong with the voting machines after a win but blamed it for losses.
Earlier addressing an election rally in Tumakuru, Modi alleged that the Congress and Janata Dal-Secular have entered into a "secret" pact for the Karnataka polls.
"If anyone is protecting the Congress, it is the JD-S.... Congress and JD-S have a secret understanding... an understanding behind the curtains," he said.
Modi said the Congress, which ruled the country for decades, with "one family" in power for most part, neglected the poor and farmers.
"Garibi, garibi, garibi (poverty, poverty, poverty) was their constant refrain. But once the son of a poor mother became the prime minister, they clammed up... now they don't talk about poverty," he said, and asked voters to "punish" the Congress for Karnataka's better future.
In Mangaluru, the prime minister said opposing him was the Congress's only agenda.
"They even opposed my Clean India campaign. They mock all institutions...the Reserve Bank of India, Indian Army, Parliament... It is yet to recover from the shock of demonetisation as bundles of ill-gotten currency notes of its leaders were seized... their anger does not go away," he said.
"When the World Bank praises my government, Congress says I bought it off. I am not into buying and selling, I work for the nation. For the Congress, one family is everything. For me, 1.25 crore people of India are my family," he said.
© Copyright 2020 PTI. All rights reserved. Republication or redistribution of PTI content, including by framing or similar means, is expressly prohibited without the prior written consent.