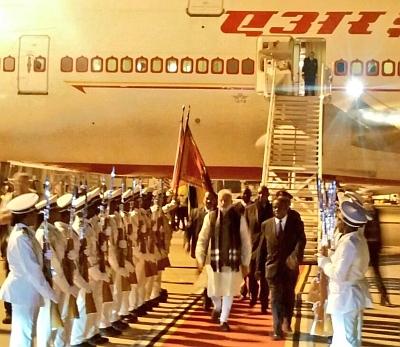 Prime Minister Narendra Modi on Thursday arrived in Mozambique as part of his four-nation Africa tour aimed at enhancing ties with that continent, particularly in the economic sphere and people-to-people contacts.
"A Maputo morning, an African dawn! PM @narendramodi arrives in Mozambique for the first leg of his visit," Ministry of External Affairs spokesperson Vikas Swarup tweeted on Modi's arrival in Mozambique's capital Maputo.
Modi begins his five-day tour with Mozambique and will then travel to South Africa, Tanzania and Kenya.
The focus of the African tour will be on deepening cooperation in areas of hydrocarbons, maritime security, trade and investment, agriculture and food.
"Beginning my Africa tour with a visit to Mozambique. This visit will strengthen India's bond with Mozambique," the prime minister said in a tweet.
Prime Minister Modi will be given a ceremonial welcome at the Presidential Office at 9.30 am (Mozambique time) or 1pm IST, after which, he will hold a "restricted meeting" with Mozambican President Filipe Nyusi. This will be followed by delegation-level talks, a signing of agreements and an issue of a joint statement.
The Union Cabinet had on Tuesday given its approval for the signing of a Memorandum of Understanding between India and Mozambique on drug demand reduction and prevention of illicit trafficking in narcotic drugs, psychotropic substances and precursor chemicals and related matters. The MoU is aimed at enhancing mutual cooperation between the two countries in combating illicit trafficking in narcotics, psychotropic substances and their precursors through an exchange of information, expertise and capacity building.
The cabinet also approved a long-term contract by signing an MoU with Mozambique for the import of pulses either through the private channels, or, via Government-to-Government sales through state agencies nominated by both nations.
Besides, Mozambique is the third largest exporter of natural gas after Qatar and Australia.
Thereafter, Prime Minister Modi will attend a state banquet hosted by President Nyusi in the Banquet Hall of the Presidential Office.
About 5:40pm IST, the prime minister will visit the National Assembly, where he will receive a ceremonial welcome and will be introduced to the members, followed by a meeting with President of the National Assembly Veronica Macamo and signing of visitor's book. Before departing for South African capital city of Pretoria at 9:50pm IST, the prime minister will interact with Indian Diaspora.