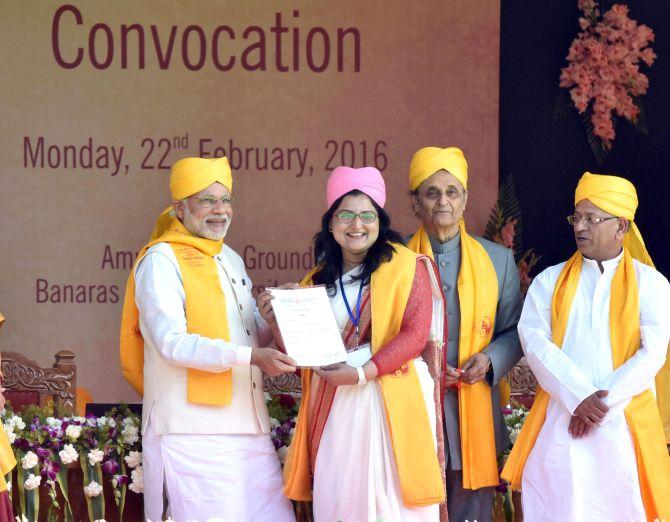 Prime Minister Narendra Modi, who had declined an honorary doctorate degree from Banaras Hindu University, on Monday apologised for having refused "politely" a proposal in this regard and said Banaras has already given him so much for which he is indebted to it.
The Prime Minister said while he does not accept such honour, just to visit an institution like the BHU is a matter of great pride for him.
"I had received a letter from the university for conferring a doctorate on me. I politely said no to it. I believe, the more I can keep away from these things, the better. That is my endeavour. But, I am grateful to the chancellor, the vice chancellor and the university that you chose me for this," he said.
He was speaking at the centenary year convocation of the BHU.
Please don't feel bad that I have said no. This is such a big institution, to just come here is a matter of great pride for me. And what the people of Banaras have given me, no university can. So I am indebted to Banaras," Modi said expressing gratitude.
The BHU had proposed to confer Doctor of Laws (LLD) (honoris causa) on Modi in recognition of his "yeoman services as an innovator, reformer and an outstanding leader in public service and governance".
It had requested for his consent which the prime minister declined.
This is not the first time that Modi has declined a doctorate. In the run up to his US visit in 2014, a university in Louisiana had proposed to confer an honorary doctorate on him in recognition of his contribution towards social transformation, especially for empowering women and minorities in Gujarat which he declined.
Even as the chief minister of Gujarat, he had declined honorary doctorates from various universities.
"We need technology that can help us realize the goal of increasing our solar energy output," the prime minister said.
Speaking about the glory of India's traditions, he referred to yoga and said while it has existed for long, there was a time when "we lived with a mindset that we did not feel that the entire world would take to yoga".
Last year, he noted, the United Nations accepted observing International Yoga Day on June 21 every year and 192 countries joined in celebrating it.
Modi also referred to the country's ancient past and said that in the Taittreya Upanishad, the aspects related to holding a 'Deekshant' (convocation) ceremony is mentioned.
"Deekshant (convocation) must not mean sheekshant (end of education), since the real learning begins after one faces the world upon completion of former studies," he said.
He said that even Mahatma Gandhi had established Gujarat Vidyapeeth with similar objectives as those of the BHU founder Madan Mohan Malaviya.
He also referred to several school children present on the occasion as his personal guests and said he wanted even poor children to dream and achieve the highest education.
Image: PM Narendra Modi felicitating the awardees at the centenary year convocation of the Banaras Hindu University. Photograph: Press Information Bureau
© Copyright 2023 PTI. All rights reserved. Republication or redistribution of PTI content, including by framing or similar means, is expressly prohibited without the prior written consent.