Prime Minister Narendra Modi and his Australian counterpart Anthony Albanese will hold extensive talks on Friday with a focus on boosting overall bilateral ties in areas of trade and investment, defence and critical minerals.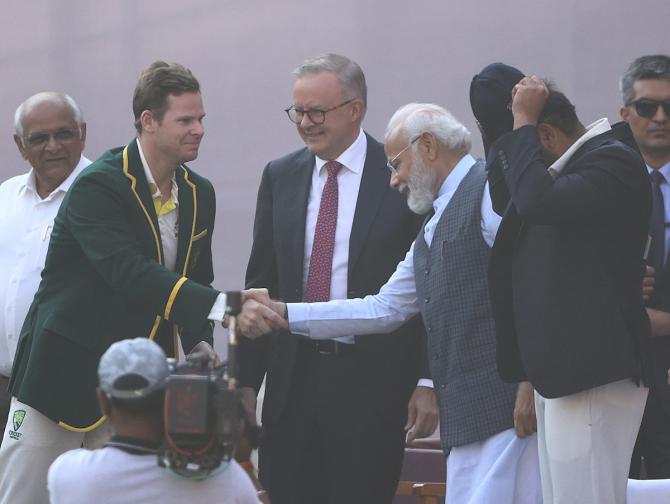 The two leaders are also expected to review the situation in the Indo-Pacific amid growing concerns over China's increasing military assertiveness in the region, people familiar with the matter said.
The Australian prime minister arrives in Delhi on Thursday evening after concluding his engagements in Ahmedabad and Mumbai.
On Thursday morning, Modi and Albanese watched the fourth Test match between India and Australia in Ahmedabad.
"As two cricket-loving nations, Australia and India share a fierce but friendly rivalry. At the heart of this contest is genuine respect, reflecting the affection and friendship between our peoples," Albanese tweeted.
Later he visited Mumbai where his engagements included an interaction at the India-Australia CEO's forum.
Days ahead of his visit to India, Albanese said a stronger India-Australia partnership is good for regional stability and that it also means more trade and investment.
It is his first visit to India after becoming the prime minister in May last year.
The last visit to India by an Australian prime minister was in 2017.
The people cited above said bilateral ties in areas of trade and investment, defence, critical minerals and education will be the focus of the talks between the two prime ministers.
Albanese's visit comes after a series of high-level engagements and exchange of ministerial trips between two sides in 2022 and in 2023.
External Affairs Minister S Jaishankar travelled to Australia on February 18 while his counterpart Penny Wong visited New Delhi from February 28 to March 3.
The India-Australia bilateral economic ties are on an upswing. The Economic Cooperation Trade Agreement (ECTA) has entered into force from December 2022.
It is the first free trade agreement signed by India with any developed country in a decade.
The ECTA has resulted in immediate reduction of duty to zero on 96 per cent of Indian exports to Australia in value and zero duty on 85 per cent of Australia's exports (in value) to India.
The bilateral trade was USD 27.5 billion in 2021. Australia is the 17th largest trading partner of India and India is Australia's ninth largest trading partner, according to official data.
With ECTA, there is potential for bilateral trade to reach around USD 50 billion in five years.
India is one of the top sources of skilled immigrants to Australia. The Indian community in Australia continues to grow in size and importance.
The cooperation in education is also on an upward trajectory.
The two sides firmed up a mechanism for mutual recognition of educational qualifications on March 2.
It is expected to facilitate mobility of students between India and Australia.
It is learnt that Deakin University and University of Wollongong are planning to open campuses in India.
There are more than one lakh Indian students pursuing various higher education courses in universities across Australia, making them the second largest cohort of foreign students in that country.
© Copyright 2023 PTI. All rights reserved. Republication or redistribution of PTI content, including by framing or similar means, is expressly prohibited without the prior written consent.