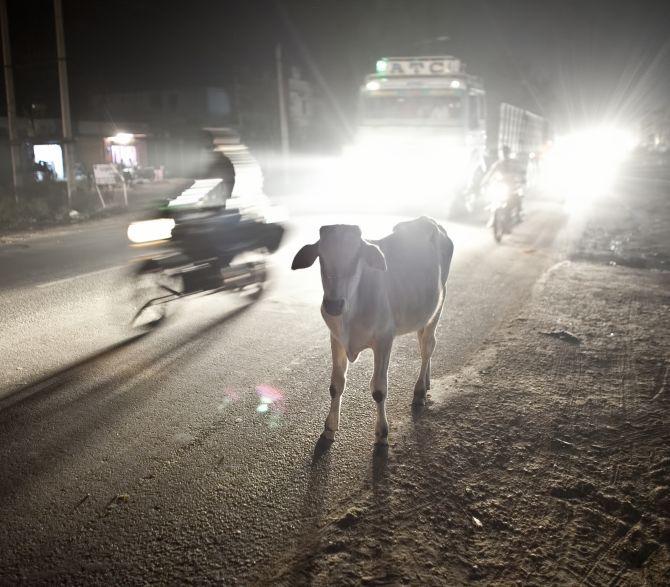 In yet another instance of cow vigilantism, two Muslim women who were carrying buffalo meat were assaulted by people at a railway station on suspicion that it was beef in the presence of police which arrested the duo.
The incident came close on the heels of the attack on dalit youths in Gujarat by cow vigilantes for skinning a dead cow, drawing outrage and triggering a slugfest between the Bharatiya Janata Party and its rivals.
Mandsaur Superintendent of Police Manoj Sharma said they received a call from a person on Tuesday stating that two women were being manhandled by people on suspicion of carrying beef at the railway station.
Two police constables, including a woman, then rushed to the platform and took the two women away, he said.
After that, the meat was sent for examination which revealed that it was of buffalo, he said, adding one of the two women had earlier also been booked for carrying meat in an illegal manner.
Following their arrest, the two women were produced before a local court which sent them in judicial remand under relevant sections of The Prevention of Cruelty to Animals Act-1960.
"It is a law and order situation and people should exercise restraint. Under no circumstances, they should take the law in their hands. We are gradually making efforts to check such incidents," the SP said
Asked about the attack on the two women, Madhya Pradesh Home Minister Bhupendra Singh denied that the two women were assaulted by other women passengers in police custody and said the policemen who were on the site had saved them during a scuffle.
He claimed that the two women had an argument with fellow passengers and there was a scuffle involving both sides.
"If they (the two women) give us any representation that something objectionable has happened, we will conduct an inquiry and ensure that the culprits are punished," the minister said.
Kotwali police station in-charge M P Singh Parihar said they had received a "tip-off" that the two women were on their way to Mandsaur from Jaora with beef following which they were caught outside the railway station with nearly 30 kg meat on Tuesday.
"On examination it was found that the two women were not carrying beef and it was found to be buffalo meat," he said.
"No report was filed by them that they were beaten by radical elements at the station," the police officer said.
The Bahujan Samaj Party and Congress created uproar in Rajya Sabha over the issue. The BJP-led government was again targeted by the Opposition leaders which had accused it of being "anti Dalit" after the Gujarat incident.
BSP chief Mayawati hit out at BJP, alleging that on one hand, it talks of protecting the girl child and giving dignity and honour to women, but on the other unleashes goons on them. As she completed her submission, BSP members trooped into the Well of the House, shouting anti-government slogans and were joined by Congress MPs.
"Mahila virodhi yeh sarkar nahi chalegi, nahi chalegi (This anti-women government will not be tolerated)", they shouted. "Dalit virodhi yeh sarkar nahi chalegi, nahi chalegi (this anti-Dalit government will not be tolerated)."
Congress leader Anand Sharma asked why Prime Minister Narendra Modi has not responded to attacks in name of 'gau raksha'.
"He has done 'chai-pe-charcha' and 'mann-ki-baat' but why not on this issue," he asked.
Leader of the Opposition Ghulam Nabi Azad said Congress party was not principally against cow protection but was against targeting of Dalits and Muslims in name of gau raksha.
"Let it be very clear. We are not against gau raksha. But in the garb of gau raksha, targeting Dalits and Muslims is something we are against," he said.
Union Minister Mukhtar Abbas Naqvi said violence in any form and in any state is condemnable.
"We don't justify in anyway" violence against Dalits or women, the minister, who also holds minority affairs portfolio, said, adding the country is run by rule of law and Constitution and not through "lathi (force)".
He said the Madhya Pradesh government has taken action in the matter.
The government, he said, was committed to development and building confidence among Dalits and Muslims.
He urged the opposition to rise above politics on such sensitive issues so as not to disturb communal harmony and peace in the country.
Image used for representational purposes only. Photograph: Allison Joyce/Getty Images