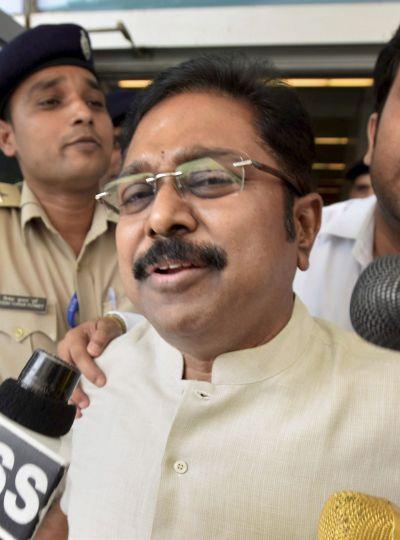 Eighteen All India Anna Dravida Munnetra Kazhagam MLAs loyal to sidelined deputy general secretary TTV Dinakaran on Friday vacated the seaside resort, where they were putting up since Tuesday, and checked into a hotel.
The legislators moved out of the resort as it was already booked for the weekend, sources said.
Police were deployed in strength at the hotel near Marapalam in the Mudaliarpet Assembly constituency.
Earlier in the day, the Dravida Munnetra Kazagham urged Tamil Nadu Governor Ch Vidyasagar Rao to immediately direct Chief Minister K Palaniswami to prove his majority in the assembly in the wake of revolt by the MLAs, saying any delay could lead to "horse trading".
The chief government whip had on Thursday sought the disqualification of the 19 dissident MLAs for alleged anti-party activities.
In a swift response, Speaker P Dhanapal had issued notice to the MLAs, 18 of whom had been staying at the resort since they met Rao on Tuesday and expressed lack of confidence in Palaniswami.
The Speaker had sought their replies within seven days.
The rebels had termed the move to disqualify them as a "planned drama" and said they would legally challenge it.
DMK working president and leader of the opposition in the assembly M K Stalin on Friday dubbed the Palaniswami dispensation a "minority government".
In a statement in Chennai, he also questioned the Speaker's decision to issue notices to the MLAs.
The DMK leader said the governor should ensure that Palaniswami does not continue in power by "creating a constitutional crisis and misusing anti-defection law".
The Dinakaran camp MLAs had raised the banner of revolt after the AIADMK factions led by Palaniswami and former chief minister O Panneerselvam merged on August 21.
Of the 234-member Tamil Nadu assembly, the AIADMK has 134 MLAs. There is no one representing the RK Nagar constituency in the House.
The DMK has 89 seats, Congress eight and IUML one.