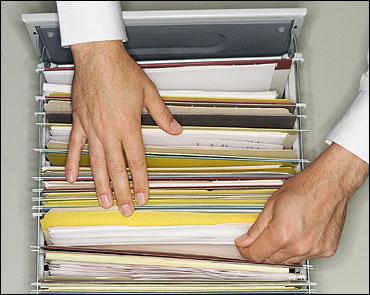 A comprehensive plan should be devised to handle the issue of missing files which has become a "stumbling block" in implementing the Right to Information Act, the Central Information Commission has told the department of personnel and training.
The commission also made it clear that 'missing-files' is no defence and it cannot be used as an excuse to deny information.
It has issued a show-cause notice to officials of the labour ministry for giving the excuse of missing files allegedly for covering up delay in furnishing information or avoiding uncomfortable queries.
"What is the policy of Government of India or concerned states to deal with the cases of missing files? Under Section 4(1)(c) of the RTI Act it is mandatory to publish all relevant facts while formulating important policies or announcing the decisions which affect public," Information Commissioner Sridhar Acharyulu held.
He was hearing a plea by Balendra Kumar who had filed an RTI application with the ministry of labour and employment to which the Central Public Information Officer had said the "file was not traceable".
"The commission recommends DoPT to come up with comprehensive plan, policy and action program to tackle the issue of missing files which become a stumbling block in implementation of RTI, devise means and resources for implementing Public Records Act, 1993," he said.
He said missing files could be a potential strategy to undermine the rule of law and criminal justice systems besides facilitating several white-collar criminals in the public authorities to escape.
Only a file which might contain proof of irregularities or corruption would go missing, he pointed out.
Acharyulu said that according to the Public Records Act, the records officer shall, in the event of any unauthorised removal, destruction, defacement or alteration of any public records under his charge, forthwith take appropriate action for the recovery or restoration of such public records.
"In hundreds of cases of second appeals, this commission could not find that any public authority has a record to explain that any such appropriate action for recovery or restoration was taken," he noted.
He said the plea of missing file itself is the proof of denial of right to information of the appellant.
"It is pathetic that the CPIO or his public authority, who attend the second appeals simply spell the mantra of 'missing file' and keep silent," he said.
Acharyulu said there are instances of missing files in public offices where they have to permanently maintain certain public records.
"For instance a university has to preserve and make accessible for verification, the records pertaining to education, such as BA BSc or MA, MSc, etc. Registration department also lost a registered sale deed, or will deed or marriage records," Acharyulu said.
Acharyulu had ordered disclosure of Delhi University records pertaining for 1978, the year Narendra Modi (now the Prime Minister) had passed out.
He said if Government of India or a particular state does not have any policy to tackle the problem of missing files in public offices, that becomes the policy of the government not to have anything to do with it.
"That naturally affects the entire administration and public at large," he said.
Representative image