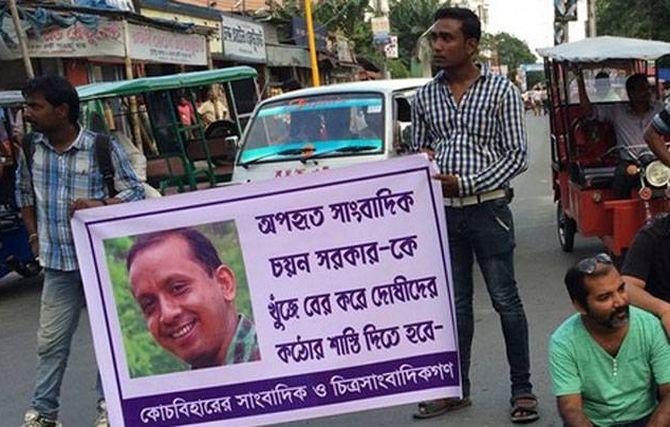 The scribe of a Bengali daily, who surfaced after going missing for five days, has "confessed" that he had left his home in Alipurduar town due to "family problems", a senior Criminal Investigation Department officer said on Saturday.
Senior Superintendent of Police, CID, S K Yadav said the journalist Chayan Sarkar had surfaced at Coochbehar on Friday and had been brought to the CID office by his younger brother and a friend. "Sarkar has not been arrested," he said.
Yadav told newsmen Sarkar had "confessed" that he had bought the money bag on August 2, the day he allegedly went missing "due to family problems" and as per a plan formulated with the help of his friend left it near the railway line.
Sarkar then left his motorbike near the roadside in Alipurduar town and tried to board a bus to Guwahati. But as none was available at the time, he boarded up Kanchanjungha Express from Kamakhyaguri railway station for Guwahati.
He, however, returned to Coochbehar as his funds ran out. After he surfaced near Coochbehar town bus stand on Friday night, he got in touch with the police and later underwent medical examinations.
He had also got in touch with his friend and younger brother, who brought him to the CID office here. He underwent medical tests again at North Bengal Medical College and Hospital on Saturday. Sarkar was present at the press meet.
The scribe had suddenly disappeared after the arrest of eight persons whom he had named in an FIR for issuing threats to him following a story by him in the last week of July on alleged bribery in a college's admissions.
Sarkar's notebook, scooter and wallet were found lying at a spot in Alipurduar town on August 3, triggering protests by the Alipurduar and Jalpaiguri Press Club which alleged that those behind the admission bribery racket had abducted him.
Chief Minister Mamata Banerjee had ordered a CID inquiry into the case of the missing journalist.