The BJP does 'empowerment and not appeasement,' Union Minister Mukhtar Abbas Naqvi asserted.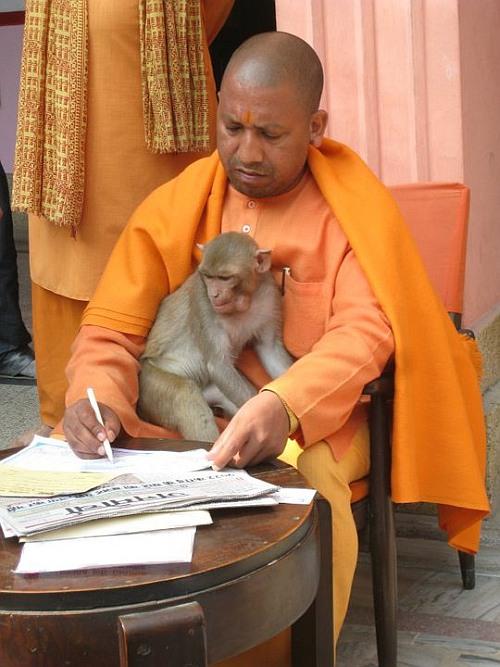 The central and state-level schemes "stuck" in Uttar Pradesh will be revived and "deprived minorities" will see growth, Union Minister Mukhtar Abbas Naqvi said on Saturday a few hours before Yogi Adityanath, the Hindutva hardliner, was elected UP chief minister.
Speaking to reporters after the meetings of the Maulana Azad Education Foundation, an autonomous non-profit minority welfare institution under the minority affairs ministry, Naqvi said the BJP does "empowerment and not appeasement."
A BJP government is set to take charge in UP after an impressive win in the assembly elections by the party which had not given ticket to any Muslim candidate.
"Socio-economic development schemes of both the state and the Centre were not getting implemented. The PM's 15 point programme was virtually shut down (in UP) which provides for roads, education infrastructure and jobs," Naqvi alleged.
"Now once our party forms the government there, we will talk to the CM and we are confident that people belonging to the backward and minority communities will be put on the path of growth through education, jobs and skill development," the Union minority affairs minister said.
Naqvi had late February said 'It would have been better (if tickets were given to Muslims by the party). We will address their concern by compensating them when we form a government in the state."
When asked what he had meant by 'compensation,' before the polls, the minister just said, the "BJP government does empowerment and not appeasement, and one can feel the difference."
"We are sure needy people will reap the benefit of inclusive growth, and the minority community who have been deprived of development will be empowered," he said.
The minister claimed that the percentage of minorities in central institutions has grown from "5.8 to 5.9 per cent, at the time of formation of the NDA government, to 10 per cent at present."
"Composition of minorities in administrative services have also gone up," he said.
The Centre, he said, plans to build toilets in 100,000 madrassas across the country as part of its efforts to revamp these traditional learning centres.
The government, Naqvi said, has also planned to introduce the midday meal scheme and upgrade the skills of teachers in these educational centres as part its '3T formula -- teachers, tiffin and toilets.'
Minority affairs ministry officials said these toilets would be build as part of the Maulana Azad Education Foundation's welfare initiatives.
"Tiffin means midday meal and the third T is for teachers. We will also identify madrassas where we need to upgrade the skills of teachers or train them to improve the pedagogy," Naqvi said.
"We plan to modernise a few madrassas by including the imparting of education of science and technology. Some foundation members will travel to different states to find out those who wish to associate with this paradigm," Naqvi added.
IMAGE: Yogi Adityanath, Uttar Pradesh's new chief minister.