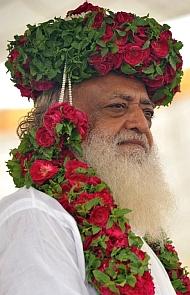 Controversial guru Asaram Bapu is in the news again for the wrong reasons with Delhi police filing a case against him on the complaint of a 16-year-old girl that he had sexually assaulted her in a Jodhpur Ashram recently.
The teenage girl along with her parents went to Kamla Market police station in news Delhi on Tuesday and gave a written complaint against the 74-year-old self-styled godman of sexually assaulting her.
"After sexual assault was confirmed in the medical examination of the girl, a case under relevant sections of the Indian Penal Code has been registered at Kamla Market police station. As the incident took place in Rajasthan, we have moved the case to Jodhpur," said a police official.
However, a spokesperson of Asaram Bapu's Ashram rubbished the charges.
"This is an entirely false case. It is yet another attempt to tarnish Bapu's image. Let the investigation happen. Whoever is behind this (case) will be exposed," said Neelam Dubey, the Ashram's spokesperson.
Asaram had invited sharp criticism a few months ago after he suggested that the Delhi gang rape victim was equally responsible for the crime and said the girl could have called her assailants brothers and begged them to stop.
The godman has been mired in controversies and the ministry of corporate affairs said it has received complaints against him and his son in an alleged 700-acre land grabbing case and the serious fraud investigation office is looking into the matter.
Asaram and his son were also investigated in the mysterious deaths of two boys whose decomposed bodies were found from the banks of Sabarmati River near his ashram in 2008.
© Copyright 2020 PTI. All rights reserved. Republication or redistribution of PTI content, including by framing or similar means, is expressly prohibited without the prior written consent.