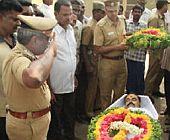 Coming under fire for allegedly not acting in time to save a bleeding Sub-Inspector attacked by a gang, Tamil Nadu minister M R K Pannerselvam on Saturday refuted as "totally wrong" the charge that he and another minister were insensitive towards the plight of the policeman who died.
In a case of shocking indifference, Sub-Inspector Vetrivel who was brutally attacked by a gang in Tirunelveli District, bled to death as his cry for help went in vain even after Paneerselvam and Youth and Sports Development minister T P M Mohideen Khan with their convoy stopped by and saw his plight.
Refuting All India Anna Dravida Munnetra Kazhagam MLA Sekarbabu's charge in the assembly that the two ministers did not take any steps to hospitalise Vetrivel, who was battling for life on the road, Pannerselvam said the allegation was totally wrong.
He said on seeing the policeman's plight, he and Khan immediately called for an ambulance, which had to come from Tenkasi. "As there could be delay, we arranged for a police vehicle to move him to hospital," he said.
Forty-four-year-old Vetrivel, a member of the Special Task Force that gunned down forest brigand Veerappan in 2004, lay in a pool of blood with his leg severed and begged for help after the attack by the gang at Alwarkuruchi shortly before the ministerial convoy was to pass by.
The two ministers came under fire after TV footage showed the profusely bleeding sub-inspector crying for help in their presence and with eyewitnesses alleging that he did not get assistance in time from them and accompanying officials.

The Sub-Inspector was badly injured after the assailants hurled country bombs at him and attacked him with sickles in a case of mistaken identity.

Meanwhile, Tirunelveli District Collector M Jayaraman told media persons that the safety of the two ministers had to be taken into account while making arrangements to rush the injured sub-inspector to hospital.
He denied reports that the ministers and Health secretary Subburaj did not arrange to send Vetrivel to hospital immediately after the incident, though their convoy reached the spot soon after the attack.

"There were two cars of the ministers, two escort cars and my car. We arranged to send the injured SI in one of the escort cars immediately and telephoned hospitals at Ambasamuthiram and Tiruneveli to be ready to give emergency treatment to the SI.
He said the incident happened around 2:40 PM. There was smoke billowing from the site. One pipe bomb was found near the Health Minister's car. A team of escort police chased the gang who kept hurling bombs and hence the other officials could not leave the ministers, he said.
Asked why they waited for an ambulance, instead of taking Vetrivel in a minister's car, he said: "I have no answer."

"We have to be very cautious in such circumstances. At the same time, we have not failed in our duty to send the injured SI to hospital. Escort police, who chased the gang, opened three rounds of fire at them, but they escaped," he said.