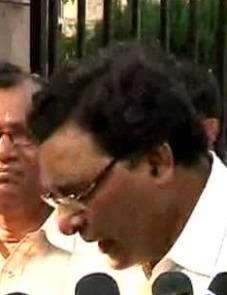 Senior Communist Party of India-Marxist leader Anisur Rahman has triggered a controversy by allegedly making derogatory remarks against West Bengal Chief Minister Mamata Banerjee and her cabinet colleagues, drawing angry reaction from Trinamool Congress leaders on Sunday.
Targeting Banerjee, Rahman, who had earlier also made disparaging remarks against the chief minister, told a rally in Birbhum district that "All ministers in West Bengal are lambs. They cannot even marry without her permission".
Rahman, who was a cabinet-ranked minister in the erstwhile Left Front government, made the remarks at the rally on Saturday.
The senior CPI-M leader had in December, 2012 attacked Banerjee over her government's decision to provide Rs 20,000 as compensation to rape victims asking what would be her compensation if she faced such an assault.
Rahman had also slammed the TMC's all India general secretary Mukul Roy for being instrumental in getting several opposition members of Legislative Assembly to join the ruling party.
The State Parliamentary Affairs Minister Partha Chatterjee said a privilege notice would be slapped on Rahman on Monday. "He (Rahman) has made filthy comments against the chief minister earlier also and following his apology, we let him go. But this time around we will take the matter to its logical end," Chatterjee said.