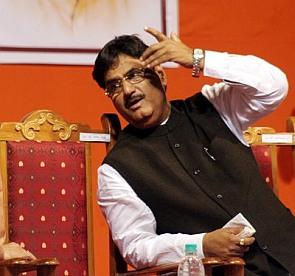 Rural Development Minister Gopinath Munde died in a road accident while on his way to the Indira Gandhi International Airport in New Delhi on Tuesday.
According to reports, the accident happened at 6:30 am when a vehicle rammed his Ambassador car from behind near Moti Bagh locality in South Delhi.

A medical bulletin issued shortly after the minister's demise said, "He (Munde) was brought to AIIMS trauma centre at 6:30 am by his personal assistant and driver. His car had been hit by another vehicle at 6:20 am after which he collapsed in the car."
"There were no major external injuries on his body. There was no BP, no pulse, no cardiac activity when he was brought in. For the next 15 minutes, CPR was administered. But he could be revived, and was declared dead at 7:20 am. Body has been sent for post mortem to know the actual cause of death."

Sources said that Munde asked for water from security guard Nair immediately after the accident and then collapsed. Munde, a diabetic, was sitting in the rear seat when the accident took place.

Terming Munde as a great leader, senior BJP leader Nitin Gadkari said that this was a big loss for the Maharashtra leader's family and the BJP. He said that Munde's cremation would take place at his village in Latur, Maharashtra.

Prime Minister Narendra Modi expressed shocked over the accident.

"I am extremely saddened and shocked by demise of my friend Gopinath Munde," he tweeted.

On Tuesday morning, Munde was on his way to Beed for a victory rally
A former deputy chief minister of Maharashtra, Munde, the OBC face of BJP in the state, had made his entry in the Union cabinet for the first time.
Munde, who was the Deputy Leader of Opposition in 15th Lok Sabha, had won this time despite NCP chief Sharad Pawar making the Beed seat a prestige issue.
A five time MLA, Munde's heart had always been in state politics and harboured the ambition of becoming first BJP chief minister of Maharashtra.
A brother-in-law of slain BJP leader Pramod Mahajan, Munde hailed from a poor family in the backward Marathwada region and was brought into politics by the late BJP leader Vasantrao Bhagwat, who also groomed several other youngsters including Pramod Mahajan.
A general secretary of the party at the national level, he was chairman of the committee on chemicals and fertilisers in last Lok Sabha.