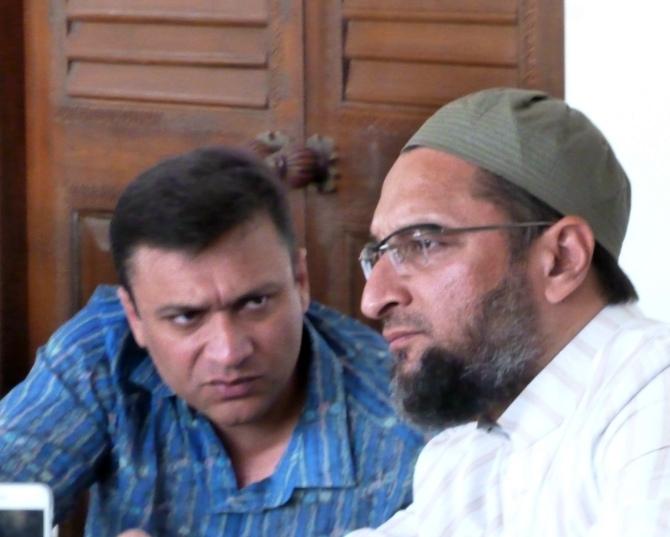 All India Majlis-e-Ittehadul Muslimeen chief Asaduddin Owaisi and his Member of Legislative Assembly-brother Akbaruddin have been booked for allegedly assaulting a Congress member of Legislative Council and a Bharatiya Janata Party candidate during Greater Hyderabad Municipal Corporation polls and the police arrested three persons in connection in one of these cases.
While Asaduddin was booked for his alleged involvement in the attack on Congress MLC Shabbir Ali on Tuesday, a case was filed against Akbaruddin after his followers allegedly assaulted M K Mahender, a BJP civic poll candidate, Deputy Commissioner of Police (South) V Satyanarayana said.
Asaduddin is the Lok Sabha member of Parliament from Hyderabad, while his brother is the MLA from Chandrayangutta here. "Based on CCTV footage, three persons were arrested in connection with the case wherein the Congress leader was allegedly attacked," the DCP said, adding further probe is on.
Ali, Leader of Opposition in Telangana Legislative Council, had on Tuesday filed a complaint against Asaduddin and his followers for allegedly attacking him in Mirchowk area.
Mirchowk and Chandrayangutta police registered cases against the Owaisi brothers and others under Indian Penal Code Sections 143 (unlawful assembly), 323 (voluntarily causing hurt), 341 (wrongful restraint) and 506 (criminal intimidation), among others.
Telangana Congress chief Uttam Kumar Reddy and Ali alleged MIM party workers led by Asaduddin attacked them. A vehicle belonging to Reddy was damaged too. Ali said he suffered injuries below the right eye and on other body parts.
On Tuesday, MIM and Congress workers clashed during the civic polls and police resorted to lathi-charge to disperse them.
The trouble started when Congress candidate Mohammad Gouse and MIM MLA Pasha Quadri got into a heated argument in Mirchowk in old city, stronghold of the regional party, following which they were briefly taken into police custody.
Reddy and Ali then reached Mirchowk police station, where Gouse was kept in custody. Asaduddin also reached there at the same time. According to police, they resorted to mild lathi-charge to disperse the agitated party workers, who led by their respective leaders, gathered outside the station.
Meanwhile, another MIM MLA Ahmed Bin Abdullah Balala, arrested on Tuesday after he and his associates allegedly assaulted MBT (Majlis Bachau Tahreek) candidate Amjadullah Khan in Malakpet, was on Wednesday granted bail.
Image: All India Majlis-e-Ittehadul Muslimeen chief Asaduddin Owaisi (Right) and his Member of Legislative Assembly-brother Akbaruddin. Photograph: SnapsIndia