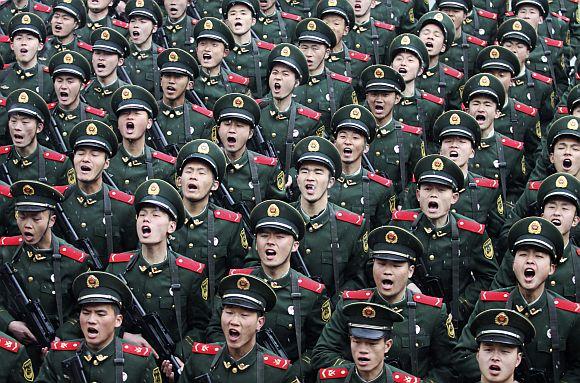 Military clashes between China and Japan cannot be ruled out and the People's Liberation Army will fight back if provoked, a top Chinese official said on Monday.
"At present, we cannot completely rule out the possibility of clashes in East Asia, but it is not decided by China," said Qian Lihua, a member of China's top political advisory body, the National Committee of the Chinese People's Political Consultative Conference.
The Chinese army will not stir up a war but will fight back against any provocation, Qian, a major general who used to head the foreign affairs office under the Ministry of National Defence, was quoted by state-run Xinhua news agency as saying.
His comments came amid reports that Japan is forming a new amphibious force to deal with any invasion of the islands held by it in the East China Sea.
China and Japan are at loggerheads over the disputed Senkaku/Diaoyu islands and relations between the two countries have steadily deteriorated in recent months.
Qian said it is impossible and impractical for Japan's right-wing forces or militarism forces to cause big trouble, chaos, conflicts and even wars against China as the country was not in the same situation as in 1894 or in the 1930s, when Japan waged two wars against China.
"The Chinese army and the Chinese people are capable of containing the development of Japan's militarism and will prevent them from making trouble around China," Qian added.
China will make efforts to control risk, prevent conflict escalation and try to bring the China-Japan relation back on the right track, he said. No country wants to have wars considering the current economic difficulties. "If there is a war, it will only damage the hard-earned economic recovery," Qian said.
Image: Recruits of the Chinese Army shout slogans during a handover ceremony on a rainy day at a military base in Hangzhou. Photograph: Reuters