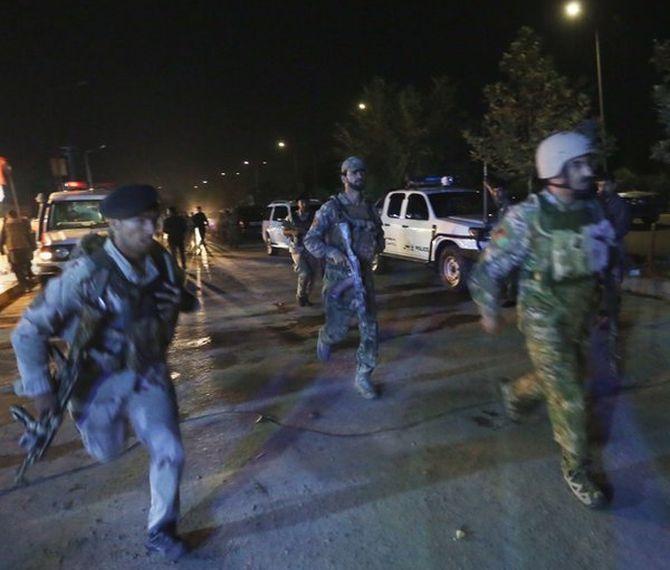 Afghan forces ended the assault after 10 hours of gunfire.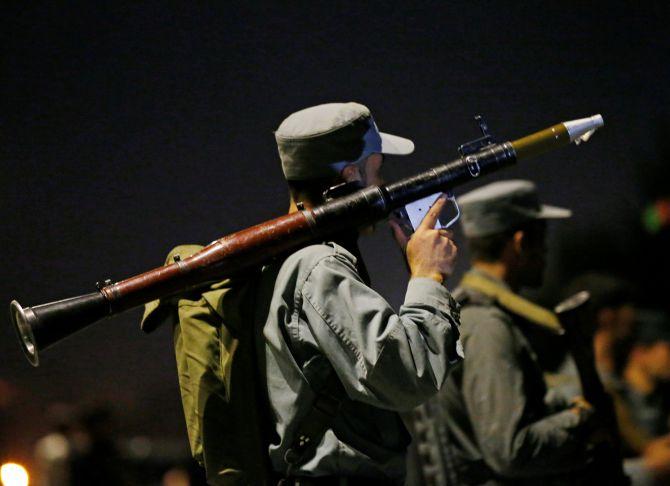 IMAGE: Afghan policemen stand guard at the site of an attack at American University of Afghanistan in Kabul. Photograph: Mohammad Ismail/Reuters
Afghan security forces on Thursday killed two gunmen who attacked the American University in Kabul, ending a 10-hour assault on the compound that left twelve dead. The dead included seven students, according to Interior Ministry spokesman Sediq Sediqqi. Three police officers and two security guards were also killed, the ministry said.
Gunmen launched the assault on Wednesday evening which began with a large explosion that that officials said was a car bomb followed by gunfire that forced hundreds of students and faculty members to flee while precipitating a battle with security forces.
Officials said elite Afghan forces, with help from the United States and NATO military advisers, surrounded the walled compound and eventually worked their way inside. After a night of sporadic gunfire, officials said the forces killed at least two gunmen and ended the assault.
Police said they rescued more than 500 students from the university.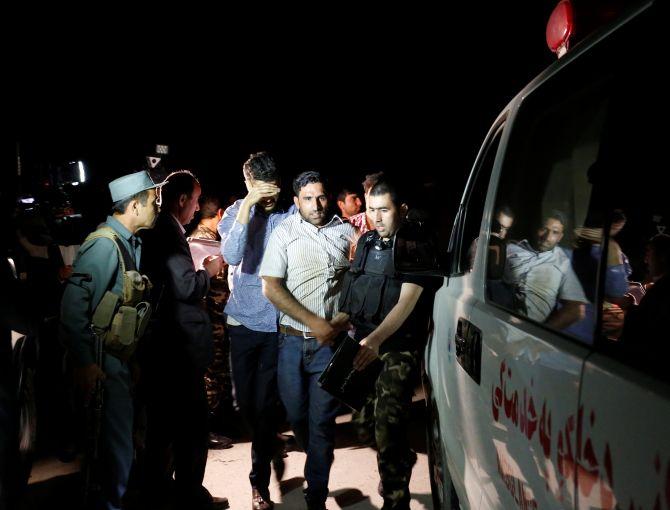 IMAGE: Afghan men walk towards an ambulance after they were rescued from the site of an attack at American University of Afghanistan. Photograph: Mohammad Ismail/Reuters
No group has claimed responsibility for the attack, which comes as fundamentalist Taliban militants step up their summer fighting season against the central government.
Roman Dehsabzwal, who was inside a second-floor classroom when the assault began, told RFE/RL's Radio Free Afghanistan that he believed an attacker blew himself up just outside a building and then others began entering.
"First there was a loud bang and windows shattered, then gunfire started," Dehsabzwal said. "One of my friends was wounded."
Dehsabzwal said he escaped by jumping from the second floor along with two others, then fleeing the scene.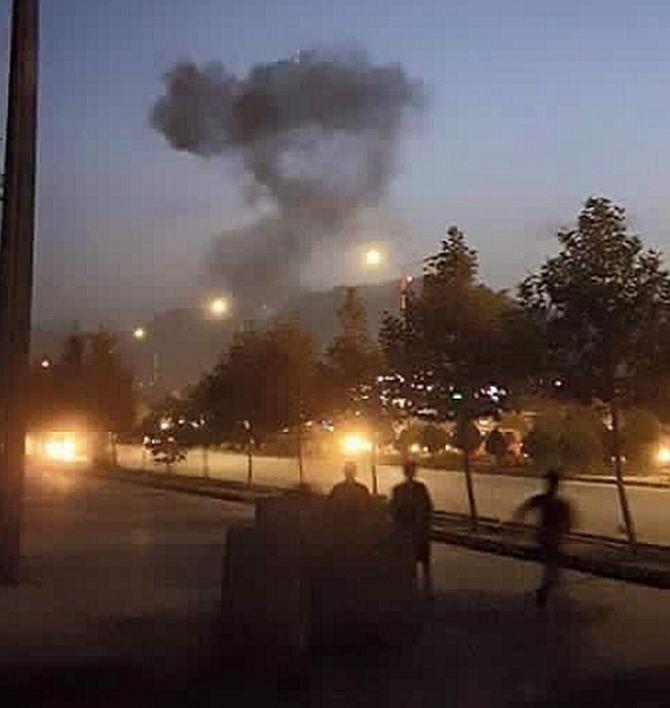 IMAGE: An Twitter user posted this vantage view of the attack. Photograph: Twitter
A student, who asked to remain anonymous, said he was attending a lecture class when he heard a "very enormous and harsh sound" -- an explosion roughly 50 metres from his classroom.
"Everyone looked around the room looking for an escape," he said. "We have an emergency exit area in the corner of the campus. It's like a gate that opens when people need to get out of campus. Everyone was running out of there."
He heard gunfire as they ran, then a second explosion. Both explosions came from the school's entrance, he said.
"People were screaming for help. Everyone was screaming," he said.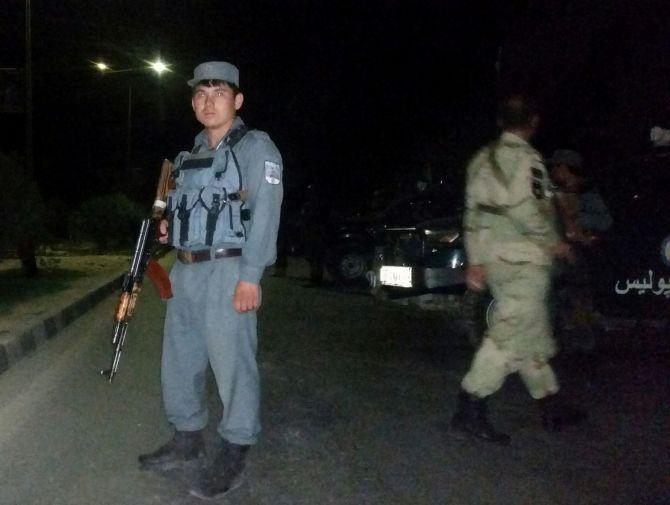 IMAGE: An Afghan policeman keeps watch at the site of an attack in Kabul, Afghanistan. Photograph: Omar Sobhani/Reuters
The university, which opened in 2006, has more than 1,700 students, many of whom take classes part-time while working full-time jobs.
The campus attack comes two weeks after two teachers at the university -- an Australian and an American -- were abducted by unknown gunmen in Kabul. Their whereabouts are still unknown.
The violence came as the Taliban are escalating nationwide attacks.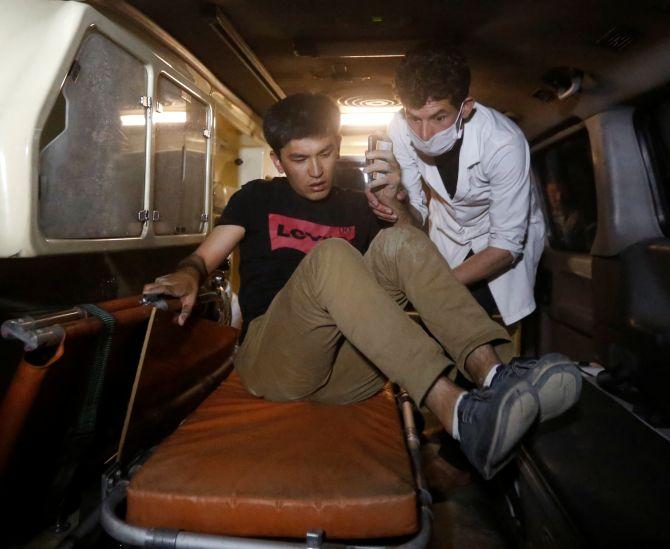 IMAGE: A wounded man is helped by a medic inside an ambulance following an attack at American University of Afghanistan in Kabul. Photograph: Omar Sobhani/Reuters
Condemning in the strongest terms the terrorist attack on the American University in Kabul, the United States reaffirmed its support to the Afghanistan government and people and saluted the quick response of Afghan forces.
"The US condemns in the strongest terms the terrorist attack today on the American University of Afghanistan. We salute the quick work of the Afghan National Defence and Security Forces who responded to the attack and secured the university," Spokesman of the National Security Council, the White House, Ned Price said.
"We send our thoughts and prayers to the families and loved ones of those killed and our heartfelt wishes for a speedy recovery to those wounded. We further reaffirm the support of the US for the Afghan government and people as they continue to build a more stable, secure, and prosperous Afghanistan," he said.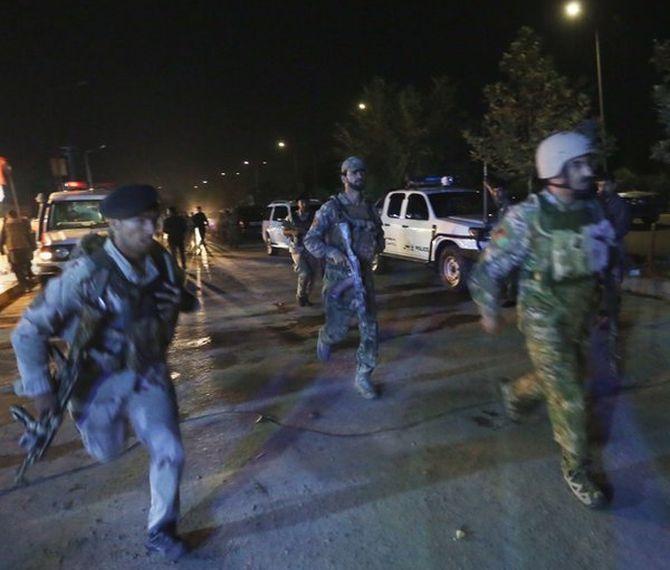 IMAGE: Afghan security forces seen creating a perimeter around the attack site.

State Department spokesperson Elizabeth Trudeau said an attack on a university is an attack on the future of Afghanistan.
Republican presidential candidate Donald Trump sent his thoughts and prayers to everyone at the university in Kabul, saying "We must defeat radical Islamic terrorism. Anyone who will not name our enemy is not fit to lead this country".
"This tragic attack on a symbol of hope and progress is yet another reminder of the increasingly perilous security situation in Afghanistan," said Senator Richard Burr, Chairman of the Senate Select Committee on Intelligence.