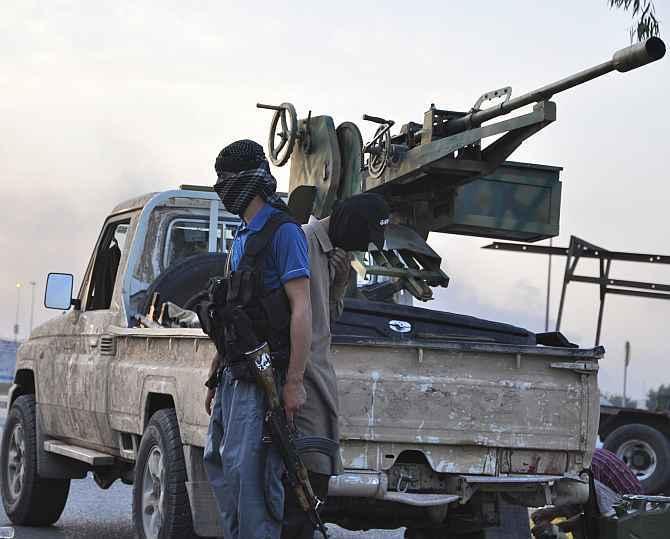 Militants from groups affiliated with once feared Al Qaeda network are abandoning their outfits to join the dreaded Islamist State that has seized swathes of territory in Iraq and Syria and been targeted in American airstrikes, according to a report.
"Small groups from a number of Al Qaeda affiliates have defected to ISIS," as the group is also known, the Washington Post reported, citing a US official with access to classified intelligence assessments.
"And this problem will probably become more acute as ISIS continues to rack up victories."
The paper said the influx has strengthened the Islamic State, also known as Islamic State of Iraq and Syria or ISIS.
Citing US officials, the paper said the defections to the Islamic State have "come primarily from Al Qaeda in the Arabian Peninsula, the Yemen-based group that has launched several bombing plots targeting the US, and Al Qaeda in the Islamic Maghreb, which had seized territory in northern Mali before facing strikes carried out by France last year."
"It's not to the point where it's causing splintering within the affiliates," said the senior US counterterrorism official. But the defections have accelerated in recent months, officials said, and also involve fighters from groups in Libya and elsewhere that are not formally part of Al Qaeda.
Last month, Pakistan-based Tehreek-e-Khilafat became the first jihadi outfit in the South Asia to break ranks from Al Qaeda and declare its allegiance to the Islamic State.
The movements are seen by US­ counterterrorism analysts as a worrisome indication of the expanding appeal of the dreaded group led by Abu Bakr al-Baghdadi, who declared himself as Caliph and renamed the ISIS as Islamic State, the Post said.
ISIS or IS is an Al Qaeda splinter group and it has seized hundreds of square miles in Iraq and Syria.
Al Qaeda has distanced itself from the group, chiding it for its lack of teamwork in its aggressive, brutal expansion.
"US officials attribute the Islamic State's rapid emergence to factors both psychological and tactical... And its merciless reputation triggered rampant defections among Sunni members of Iraq's security forces already disenchanted with the Shiite-led government in Baghdad," the Post said.
Counterterrorism analysts at the Central Intelligence Agency and other agencies have so far seen no indication that an entire Qaeda node or any of its senior leaders are prepared to switch sides. But officials said they have begun watching for signs of such a development, the paper added.
Image: ISIS fighters seen after the capture of Mosul
Photo: Reuters