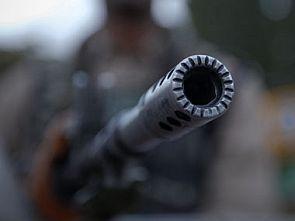 The National Investigation Agency and Nagaland Police have arrested three suspected activists of NDFB-S, including Ajoi Basamutary on whose alleged instructions 36 people were killed in Assam's Sonitpur area last month.

In a statement, the NIA said the three accused were arrested from Kohima on January 14-15 night and had been taken on a transit remand to Guwahati where they will be produced in a special NIA court.

According to the NIA statement, Basumatary alias B Buhum was heading the so-called 'third battalion' of the terror outfit National Democratic Front of Bodoland-S and "it was under his direction and leadership that recent killings took place in Sonitpur district of Assam on 23.12.2014, in which, 36 persons including women and children were killed and 6 persons were injured."

The second person arrested was Dilip Basumatary alias Bir Baisa, with the agency claiming that he was a dreaded terrorist who is responsible for co-ordinating activities of NDFB-S in the Reserved Forest areas of Assam along the Indo-Bhutan, Assam and Arunachal Pradesh border.

He is also alleged to be actively involved in the conspiracy behind recent killings in Assam, the statement said.

The third militant arrested was identified as Khamrei Basumatary alias Udla who was alleged to be responsible for killings in Kokrajhar district in which 20 persons were killed and several injured.

He was also allegedly involved in incident of killings of Baksa district of Assam in May, 2014, the statement said.

The operation led to recovery of seven mobile phones and documents that throw substantial light on leadership of NDFB-S, the NIA said.

Meanwhile, in a major blow to the NDFB-S, a senior commander of the outfit was apprehended by the troops of Red Horn Division of the Army on Wednesday from Bakhrakhuti village in Goalpara district of Assam on the basis of specific intelligence provided by the Army's
intelligence unit.
The apprehended terrorist has been identified as self-styled platoon commander of Dhubri Platoon, the 14th Battalion of NDFB-S, Pradeep Brahma alias Pwler, a 36 batch Bangladesh-trained terrorist. Twelve rounds of M-16 ammunition, two detonators and fuse wire were recovered from his possession.
Under strict instruction from the Union home ministry, the Army and Assam Police operating under the counter-insurgency Unified Command structure have been relentlessly trying to smoke out the NDFB-S militants in the wake of killings of Adivasi villagers in three districts of Assam last month.
The operation have so far resulted in capture of more than 30 hard core militants with weapons besides over 50 overground activists and linkmen of the outfit. Some of the arrested militants were directly involved in the massacre. At least one top leader of the outfit has been killed in encounter while most of the remaining top leaders have fled to other states as well as crossed the international border to escape the heat of the operation.
A defence source in New Delhi informed adding that in view of the sustained intensified operation in Kokrajhar and Chirang district some of the NDFB-S ultras have fled to safer areas along Assam-Meghalaya boundary areas. The outfit is believed to have about 200 armed cadres.
Security forces have so far seized and recovered 15 rifles (including 10 of the AK-series), 15 pistols, 25 grenades, 8 KG explosives and 1285 rounds of live ammunition from the arrested NDFB-S cadres.
Additional Inputs: PTI