Congress leader Rahul Gandhi told British parliamentarians in London on Monday that functioning microphones in the Lok Sabha are often silenced against the Opposition.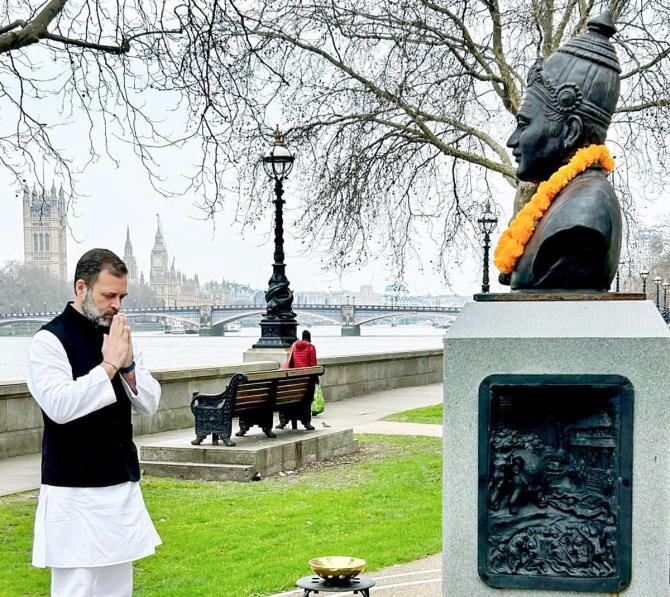 During an event organised by veteran Indian-origin Opposition Labour Party MP Virendra Sharma in the Grand Committee Room within the House of Commons complex, Gandhi shared experiences from the Bharat Jodo Yatra which he described as a 'deeply political exercise in mass mobilisation'.
In a lighter vein, he used a faulty microphone in the room to make his point about what he described as a stifling Opposition debate in India.
"Our mikes are not out of order, they are functioning, but you still can't switch them on. That's happened to me a number of times while I am speaking," the 52-year-old Wayanad MP told the gathering, in response to a question about sharing his experience of being a politician in India with his counterparts in Britain.
"Demonetisation, which was a disastrous financial decision, we were not allowed to discuss. GST we were not allowed to discuss. Chinese troops entering Indian territory we were not allowed to discuss. I remember a Parliament where there were vibrant discussions, heated debates, arguments, and disagreements but we had a conversation. And, that's frankly what we miss in Parliament. We have to use debates to fit in other debates. There is a stifling that is going on," he said.
The Bharatiya Janata Party has accused Gandhi of maligning India on foreign soil while praising China.
Union Minister Anurag Thakur on Monday hit out at Gandhi for his remarks and asked the Congress leader not to betray the nation.
"Don't betray India, Rahul Gandhi ji. The objections to India's foreign policy is an evidence of your scant understanding of the issue. No one will believe the lies you spread about India from foreign soil," Thakur told reporters in New Delhi.
Thakur said Gandhi has resorted to 'maligning India' from foreign soil as part of a conspiracy to hide his failures.
"Rahul Gandhi has become a storm of controversies. Be it foreign agencies, foreign channels or be it foreign soil. He does not lose a single opportunity to malign India," Thakur said.
During the meeting, Indian-origin peer Lord Navnit Dholakia asked Gandhi about the Congress Party's delivery record, to which the former Congress president blamed a propaganda machine that does not reflect a strong undercurrent against the government.
He also pointed out that the Congress had successfully ruled the country for many, many years and dismissed what he dubbed as a flawed media narrative against the Opposition party's electoral prospects in the future.
"This idea that the BJP is unbeatable is a narrative that is being created. It was the same narrative in the media in 2004, about India shining and when the result came it was a shock for the BJP. So, I don't buy the narrative in the media. I listen to the people on the ground," he said, adding that he is 'pretty confident' of bringing the Opposition together on one platform.
When asked about his hopes and dreams for India, the Congress leader responded that the future of India is very good as long as we can take care of this turbulent period we are going through where our structures are being attacked .
"It is in the DNA of our country to be affectionate," he added.
The gathering of parliamentarians included Indian-origin Labour MPs Seema Malhotra, Navendu Mishra, Valerie Vaz and Tanmanjeet Singh Dhesi as well as Kim Leadbeater and Gareth Thomas, among others.
On India-UK relations, Gandhi admitted that a lot has already been done to strengthen bilateral ties and said a Congress-led government would focus on creating greater employment opportunities and also protecting Indian democracy.
"Democracy in India is a global public good. India is big enough, and if democracy is weakened in India, it is weakened on the planet. India's democracy is three times the size of the US and Europe and if this democracy crumbles, it will be a huge setback for democracy on the planet," he said.
Asked about the role of the Indian diaspora by Indian-origin Deputy Mayor of London for Business Rajesh Agrawal, Gandhi said: "A huge part of what I do is defend the idea of India. I am very uncomfortable when the central value of our civilisation is attacked. And, I think that's how the diaspora should see itself. You are ambassadors of that value respect is important, and non-violence is important."
"These are things that bring us together and you (diaspora) are helping us spread them around the world. Our diaspora and our population that lives abroad have done this magnificently," he added.
© Copyright 2023 PTI. All rights reserved. Republication or redistribution of PTI content, including by framing or similar means, is expressly prohibited without the prior written consent.