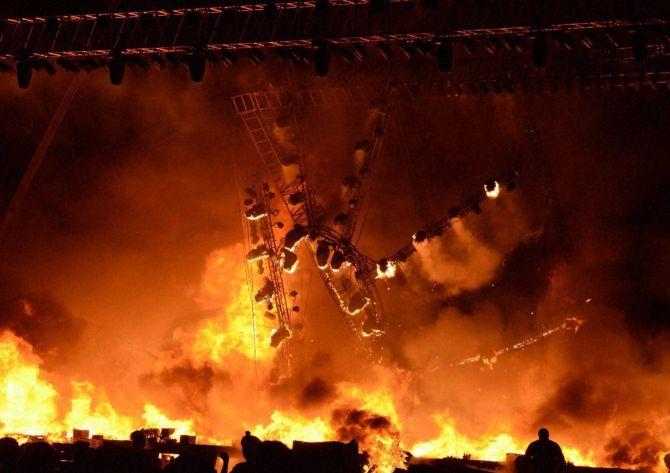 Safety instructions were neglected as LPG cylinders were brought by the organisers and kept under the stage of the Make in India event where a massive fire broke likely due to an electric spark coming into contact with combustible material, a probe into the incident in Mumbai has said.
The inquiry by the Mumbai Fire Department found that LPG cylinders were brought to the venue at Girgaum Chowpaty by the show organisers to create the image of Lord Ganesh, neglecting the safety instructions given in writing.
"LPG cylinders were brought in for creating image of Lord Ganesha with flames. The Mumbai fire brigade in its No-Objection Certificate dated February 11 clearly mentioned that LPG cylinders are not to be used," said the report submitted by the department to Maharashtra government on Wednesday.
Despite this, cylinders were stored under the stage, and when the fire broke they exploded, the 185-page report said. "The likely cause of fire is...defective electric circuit
(electric spark from the electric wiring came in contact with combustible materials underneath the stage) contributed by negligence of organisers/event management company by storing highly combustible material below the stage," it said.
There were repeated directions to Wizcraft to follow the safety instructions given in writing, it said.
"This act of the organiser, Wizcraft International Entertainment, shows wilful negligence/ wilful flouting of the fire safety instructions," said the report.
It also said if the investigating agencies such as CID or police came across some (different) evidence, then the "supposed cause" of the blaze can be reviewed.
The fire broke out on February 14 during 'Maharashtra Night', a cultural event at the MII Week. Chief Minister Devendra Fadnavis, who was present at that time, supervised the fire-fighting. Several celebrities were also present at the venue.
The fire caused a damage of around Rs 5 crore, but nobody was injured.