A migrant worker from Bihar was shot dead by terrorists in Jammu and Kashmir's Bandipora district, the latest in a series of targeted killings, officials said on Friday.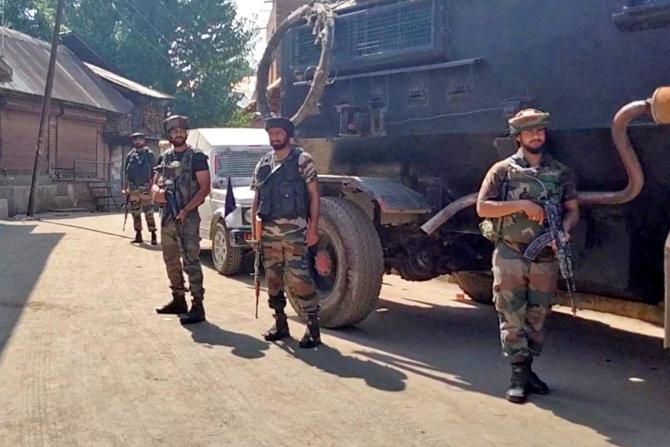 The attack took place late Thursday night in Soadnara Sumbal in Bandipora.
The deceased, identified as Mohammed Amrez from Madhepura in Bihar, was a weaver. Amrez was aged around 20.
Mohammad Tamheed, who identified himself as Amrez's brother, said they were sleeping when they heard gunshots around 12:20 am.
"...My younger brother woke me up, saying some shots were fired. I told him to go back to sleep saying such things happen. But he told me that he will take a look as another brother was not in the room.
"He went downstairs and saw him (Amrez) covered in blood. We called the Army. They came and took him to Hajin. The doctors there told us to take him to Srinagar, but he succumbed on the way," Tamheed said.
Tamheed and Amrez's colleagues have appealed to the government to help them take his body back to Bihar.
Jammu and Kashmir Apni Party leader and former MLA of Bandipora Usman Majid condemned the attack.
"I strongly condemn the killing of non-local labourer Mohammed Amrez.... Killing innocents is in no way bravery, but a pure cowardly attack which deserves the highest form of condemnation. My heartfelt condolences to the bereaved family," he tweeted.
Amrez is the fourth non-local to be killed in a targeted attack in Kashmir this year. A total of 14 civilians and six security forces personnel have been killed in targeted attacks this year.
In January, one policeman was killed in a targeted attack in Anantnag. February saw no such killing.
March saw the highest of seven such killings -- five civilians and an on-leave CRPF jawan in Shopian and a special police officer (SPO) in Budgam. The brother of the SPO also lost his life in the same attack.
In April, two civilians, including a sarpanch, were killed, while in May, five persons -- two cops and three civilians -- were killed. The civilians were Rahul Bhat, a government employee recruited under the prime minister's special package for Kashmir Pandits, TV actor Amreen Bhat, and teacher Rajini Bhala.
In June, a non-local bank manager and a non-local labourer were shot dead by terrorists, while a sub-inspector of police was also killed.
Two non-local labourers have been killed so far in August.