As Europe struggles to cope with the influx of lakhs and lakhs of migrants, here are the latest developments on the crisis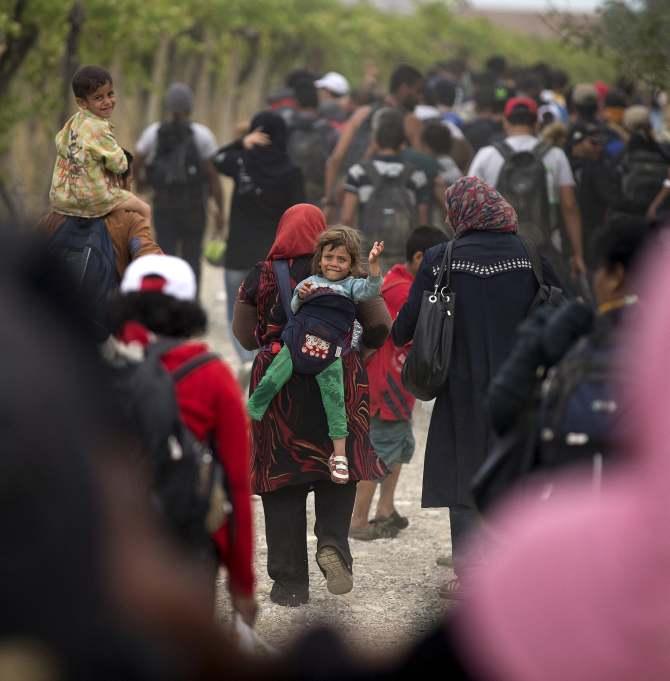 An estimated 3,66,402 refugees and migrants have crossed the Mediterranean Sea to Europe this year. Photograph: Stoyan Nenov/Reuters

1.
The biggest news on Monday is that David Cameron has said that the UK will take 20,000 Syrian refugees over five years. He added that the number is likely to rise.
2.
Over 18,000 refugees have poured into Germany and Austria over the past two days.

According to Austrian Chancellor Wenner Faymann, they have accommodated "more than 12,000 people in an acute situation. In Munich alone, over 17,000 migrants arrived over the weekend, said the police. .
3.
The massive flood of refugees is pushing the two nations to a tipping point, reports CNN. Faymann has said the emergency measures must come to an end. Even Germany said it can't keep taking in asylum seekers at the current pace.
4.
On Monday, Germany announced that it will spend Euros 6 billion (Rs 45,000 crore) to support migrants.

She said Germany "is of course willing to accept more refugees," but called on other European countries to take more in.
5.
Soon after, French President Francois Hollande said his country will open its doors to 24,000 refugees.

"Taking in those fleeing war is a duty that France is ready to shoulder," he said adding that Merkel and he had agreed upon a mechanism to disturb refugees across the continent, reports Associated Press.
6.
Hungary had previously blocked migrants travelling to Western Europe, but dropped restrictions on Friday, BBC reports.

Hungarian Prime Minister Viktor Orban said, "As long as we can't defend Europe's outer borders, it is not worth talking about how many people we can take in".

Those migrants trying to reaching Germany were seeking a "German life" not physical safety, adding that if the stream continued it would endanger Europe's "Christian welfare states".
7.
Britain maybe considering taking in as many as 15,000 Syrian refugees as it draws up plans to launch air strikes within a month in the war-torn country where dreaded Islamic State militants have occupied large swathes of land.

Senior government sources told The Sunday Times that Prime Minister David Cameron has instructed his aides to draw up plans to expand the vulnerable persons' relocation programme under which Britain has taken 216 Syrians from refugee camps.
8.
Germany expects to receive 8,00,000 refugees and migrants this year, according to BBC.

While Merkel is being hailed as a hero, critics have accused her of creating a dangerous example by opening borders.
9.
According to the United Nations' refugee agency, UNHCR, an estimated 3,66,402 refugees and migrants have crossed the Mediterranean Sea to Europe this year. At least, 2800 are missing or dead.
Rediff recommends:

Which country has accepted the most asylum applications?