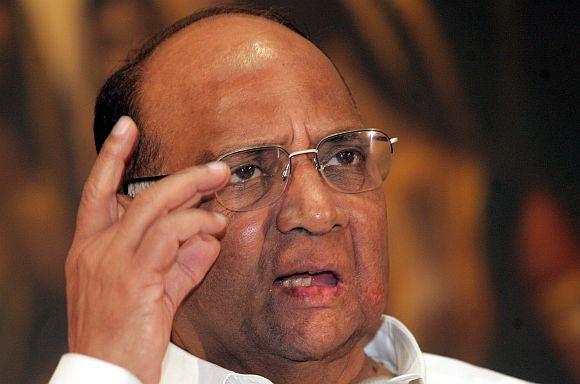 Leaders of 16 opposition parties, led by Congress president Sonia Gandhi, met on Friday to deliberate on evolving an "alternative narrative" to counter the Bharatiya Janata Party.
However, an absenteeism noted was that of Sharad Pawar from the Nationalist Congress Party.
The NCP skipped the meeting to express its displeasure over allegations by some Congress leaders that its two MLAs did not vote for Ahmed Patel in the Gujarat Rajya Sabha elections.
NCP leader Praful Patel said even when his party had issued a three-line whip to its MLAs to vote for the Congress, leaders of that party are accusing it of not supporting its candidate.
"Even after we issued a whip to our MLAs, they voted for the Congress. Why should we be accused of not supporting it? That is why we decided to boycott this meeting," Patel said.
Asked whether the Sharad Pawar party will be part of the opposition unity, he said the issue will be decided "when time comes".
Patel said the NCP is not part of alliance in Gujarat or elsewhere with the Congress, "still we supported Congress".
He also wondered why the NCP should run after the Congress, when the party led by Sonia Gandhi is one of the various opposition parties.
Meanwhile, dissident Janata Dal-United MP Ali Anwar Ansari, who is opposed to his party's alliance with the BJP in Bihar was also present at the meet.
West Bengal Chief Minister and Trinamool Congress chief Mamata Banerjee attended the meeting, besides leaders of Left parties.
Communist Party of India-Marxist general secretary Sitaram Yechury said that the opposition parties have to build an alternative narrative to counter Prime Minister Narendra Modi and his BJP, whose political power has reached a historic high in the last three years after the party won a series of assembly polls.
He told reporters that this could be done through effective strategy and taking up pro-people issues such as agrarian crisis.