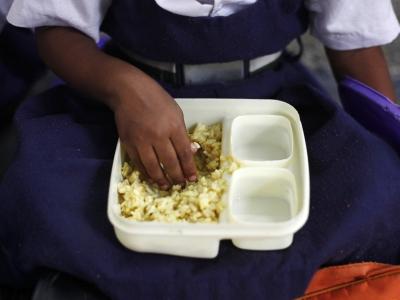 As the mid-day meal school tragedy in Bihar fuelled food safety concerns, more cases of children falling ill after consuming free food or contaminated water have come to light from Tamil Nadu, Odisha, Delhi and Maharasthra.
In a separate incident, two women who ate the food cooked by them for a mid-day meal programme for students of a government school in Bihar's Madhepura district fainted, District Magistrate Upendra Kumar said on Thursday. None of the students consumed the food as a foul smell emanated, he said.
In Tamil Nadu, at least 100 girl students fell sick after partaking food under a mid-day meal scheme at a school in Neyveli. Contaminated egg is believed to be the cause of 105 students of Neyveli Lignite Corporation-owned Girls' High School falling sick, school authorities said on condition of anonymity.
Students of Std VII and VIII were rushed to the NLC Hospital, but are out of danger, Dr Sridharan, a child specialist at the hospital said. Soon after the girls vomitted, with some of them fainting, distribution of food was stopped, officials said.
Eight students, including seven girls, of a Delhi government-run school in northwest Delhi fell ill after allegedly being given folic acid and iron supplements under a newly launched government scheme. The girls of the Sarvodaya Vidyalaya in Ashok Vihar area were rushed to Sundarlal Jain Hospital on Wednesday after they fell sick. They were discharged this morning. Deputy Commissioner Police North West P Karunakaran said the students complained that they fell ill after taking the tablets given in the school.
In Odisha, at least 12 students -- aged between 7 and 15 years -- fell sick after taking food at a government-aided hostel for poor students in Nilagiri area in Balasore district, officials said. Several inmates of Bapuji Seva Sadan hostel at Mitrapur complained of nausea, vomiting and stomach pain after having dinner on the night of July 16, they said quoting a delayed report. The affected students were admitted to two hospitals and are stable.
In Maharashtra, at least 34 students, including 13 girls, of a tribal ashram school at a village in Dhule district fell ill after consuming contaminated water, police said. Water was supplied by a tanker to the Kasturabai adivasi ashram school at Tavkheda village and the students after drinking it started vomitting and complained of diarrhoea on the night of July 16. Some of the children, who were between eight and 12 years were admitted to hospital. The condition of all the students was stated to be improving.

Image: A schoolgirl eats her free mid-day meal, distributed by a government-run primary school, in New Delhi

Photograph: Mansi Thapliyal/Reuters