In a lengthy statement, the minister gave a point by point rebuttal to claim of all the women who accused him of sexual harassment.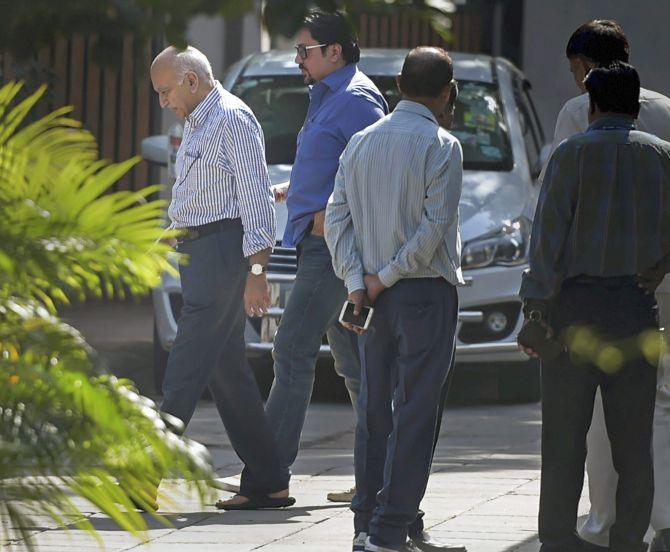 Union minister M J Akbar on Sunday rejected allegations of sexual misconduct levelled against him by several women as "false, fabricated and spiced up", as he questioned its timing months before the Lok Sabha polls, and vowed legal action.
Hours after returning from a trip to Africa, the minister of state for external affairs issued a statement trashing the charges, saying accusations without evidence has become a "viral fever" among some sections.
"Why has this storm risen a few months before a general election? Is there an agenda? You be the judge," he said.
"The allegations of misconduct made against me are false and fabricated, spiced up by innuendo and malice. I could not reply earlier as I was on an official tour abroad," he said.
Stating that these allegations have caused irreparable damage to his reputation, the Bharatiya Janata Rajya Sabha MP said his lawyers would decide the next course of action after looking into the allegations against him.
"Whatever be the case, now that I have returned, my lawyers will look into these wild and baseless allegations in order to decide our future course of legal action," he said.
Terming the entire situation as distressing, Akbar said, "Lies do not have legs, but they do contain poison, which can be whipped in to a frenzy."
Over the last few days, multiple women have come out with accounts of alleged sexual harassment by Akbar when he was a journalist as the #MeToo movement swept social media, bringing to fore claims of sexual harassment by influential men in different walks of life.
The women who accused Akbar of sexual harassment include Priya Ramani, Ghazala Wahab, Shuma Raha, Anju Bharti and Shutapa Paul, among others.
Akbar sought to give a point by point rebuttal to their charges, saying while some of the accusations are totally, "unsubstantiated hearsay" others confirm, on record, that "I didn't do anything".
"It is pertinent to remember that both Ms Ramani and Ms Wahab kept working with me even after these alleged incidents; this clearly establishes that they had no apprehension and discomfort. The reason why they remained silent for decades is very apparent: as Ms Ramani has herself stated, 'he never did anything'," Akbar said.
Elaborating further, the MoS external affairs said a campaign against him was started by Ramani a year ago with a magazine article.
"She did not however name me as she knew it was an incorrect story. When asked recently why she had not named me, she replied in a tweet, never named him because he did not do anything," Akbar said.
"If I didn't do anything, where and what is the story? There is no story. This was admitted at the very inception. But a sea of innuendo, speculation and abusive diatribe has been built around something that has never happened," he said.
Similarly, Akbar said Shutapa Paul also stated that the "man never laid a hand on me" while Shuma Raha also clarified "he didn't actually 'do' anything".
He said that Anju Bharti's claim that he was partying in a swimming pool was "absurd" as "I do not know how to swim".
Among all the allegations, Akbar, in elaborate detail, countered Wahab's charges terming them as false, motivated and baseless.
The minister said he worked with her only at The Asian Age newspaper, whose editorial team then worked out of a small hall and he had a very tiny cubicle.
The tables and chairs of other colleagues at the office were just two feet away from his cubicle, he said.
"It is utterly bizarre to believe that anything could have happened in that tiny space, and, moreover, that no one else in the vicinity would come to know, in the midst of a working day. These allegations are false, motivated and baseless," Akbar said.
Responding to Wahab's claim that she complained to Veenu Sandal, who wrote features for the paper, Akbar said Sandal described her (Wahab's) version as "nonsense" in an interview to an English daily and also said she never heard in 20 years anybody accusing him of any such thing.
Asserting that the women remained silent for decades because he never did anything, the editor-turned-politician said, "this is the reason why no one went to the authorities for so long, because I had done nothing".
Demands for Akbar's removal were made by some political parties, after his name cropped up on social media as part of the #MeToo movement.
While the Communist Party of India-Marxist and the Shiv Sena demanded Akbar's resignation, Congress president Rahul Gandhi had said the #MeToo campaign is a "very big issue". He has not commented on Akbar directly.
Modi's silence on charges against Akbar unacceptable: Congress
The Congress has stepped up its attack on Prime Minister Narendra Modi over the allegations of sexual harassment against Union minister M J Akbar, saying his silence was "conspicuous and unacceptable".
As the #MeToo movement gathered pace over the last fortnight, the Union minister of state for external affairs was accused by several former colleagues of sexual harassment when he served as an editor at various media organisations.
Addressing a press conference at the party office, senior party leader Anand Sharma questioned Modi's silence on the issue and said as the head of the government he should speak on the issue.
"It is for the prime minister to speak on this issue, let the country judge its PM by his actions. So far his silence is conspicuous. This question is not only the moral authority of the government, but his own also, and the dignity of the office he holds," Sharma said.
He claimed a prime minister, who swears by "Beti Bachao, Beti Padhao" and talks of women dignity, has chosen to be silent.
"His silence is unacceptable. It is the head of the government who should make his views known on the issue," Sharma said.
Congress chief Rahul Gandhi had earlier come out in support of the #MeToo movement, saying it was time for the truth to be told "loud and clear".
With inputs from ANI
© Copyright 2021 PTI. All rights reserved. Republication or redistribution of PTI content, including by framing or similar means, is expressly prohibited without the prior written consent.