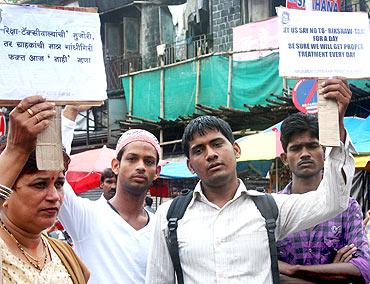 Taxi union leader A L Quadros has an arrogant smile on his face, as the much-touted Meter Jam agitation turned out to be a damp squib according to him.
A group of three Mumbaikars had taken an initiative to start the Meter Jam campaign to protest over charging and refusal to ply short distances by the city's cabs and autorickshaws.
"The Meter Jam turned out to be a complete failure, it was business as usual for taxis in Mumbai. In fact, in many cases people were waiting to board in taxis," said Quadros.
A spokesperson for the Brihanmumbai Electric Supply and Transport undertaking that runs public transport buses in Mumbai said they did not need to ply additional buses as the existing fleet of buses were enough to cater to the demand.
Though the taxi and rickshaw unions are mocking at the failure of the campaign, the initiative is still significant as this was the first time commuters have come together to protest against their grievances.
As on Thursday afternoon, around 37,000 followers had expressed their support at the website meterjam.com. This included even people from outside Mumbai like Pune, Bengaluru and other places, who felt solidarity with the campaign.
Transport experts said for the campaign to be successful, participation by over 30,000 people was needed, as around 5 million people in the city use taxis or rickshaws.
However, Quadros said, "Those who supported the drive were not the people who regularly use our taxis, hence we were not affected. Our regular commuters travelled with us like normal."
Neelam Prasad, an advocate who works at south Mumbai's Fort area said, "I was not aware of the campaign and took the taxi as usual from Mumbai Chhatrapati Shivaji Terminus to Fountain."
She, however, added that since she was aware of the campaign now, she would take a bus back to CST station from her office.
Prasad said she usually tipped the taxi driver but she had also met rude drivers who refused to ply short distances.
Some Mumbaiites complained that they were forced to take taxis, as buses were not frequent.
Ketan Shah, a businessman from Sion, said he supported the campaign but had to take a taxi to his work place in Mahim as he could not get a bus.
Some felt the strike was a boon. Anil Johri, a resident of Malad's Malvani area, who travels by bus, said he reached earlier than usual, as there were lesser rickshaws and taxis on the road.
Image: Mumbai residents protest at Mumbai's suburban area Andheri as part of the Meter Jam campaign on Thursday | Photograph: Sanjay Sawant