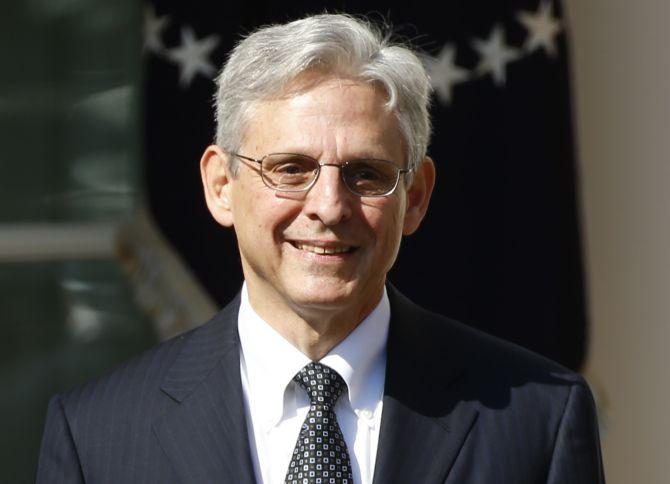 Barack Obama on Wednesday nominated one of America's "sharpest legal minds" Merrick Garland as the Supreme Court judge over Indian-origin Sri Srinivasan, risking a showdown with Senate Republicans who have warned the US President against taking a decision in an election year.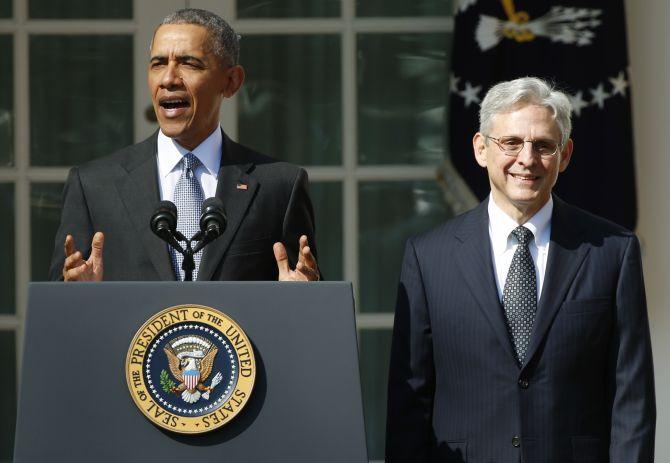 IMAGE: President Barack Obama annnounces Judge Merrick Garland (R) of the United States Court of Appeals as his nominee for the US Supreme Court in the Rose Garden of the White House. Photograph: Kevin Lamarque/ Reuters
Nomination of 63-year-old Garland -- the chief judge for the US Court of Appeals for the District of Columbia Circuit -- fills the Supreme Court seat left vacant by the sudden death of conservative icon justice Antonin Scalia last month.
The centrist judge, who hails from Obama's home town of Chicago, currently serves as the chief judge on the US Court of Appeals for the District of Columbia -- a post he took over in 2013.
Obama formally announced his intent to nominate Garland, who has earlier been on the shortlist twice, in a ceremony at the White House's Rose Garden in the presence of Garland himself and US Vice President Joe Biden.
"Garland would bring integrity, modesty and even-handedness and excellence to (the) Supreme Court," Obama said as he described the nominee as someone who is widely recognised as a legal luminary.
The President called the long-time jurist and former prosecutor as "one of America's sharpest legal minds".
Garland has served on the DC appellate court since 1997, when he was nominated to the bench by the then President Bill Clinton. He was confirmed with a 76-23 vote.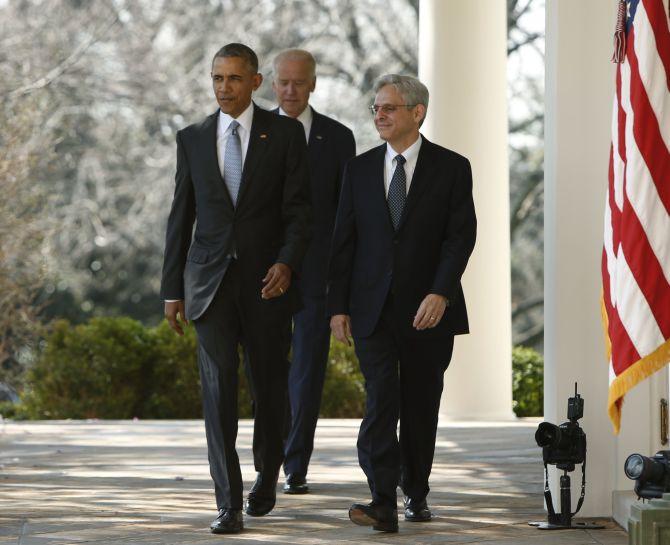 IMAGE: President Barack Obama, Vice-President Joe Biden and Judge Merrick Garland walk out to the Rose Garden of the White House. Photograph: Kevin Lamarque/ Reuters
Garland, a graduate of Harvard and HarvardLawSchool, has supervised the investigations in the Unabomber case as well as the Oklahoma City bombing as a Justice Department lawyer.
White House officials said that the former prosecutor "has more federal judicial experience than any other Supreme Court nominee in history".
The nomination comes at a time of bitter political divide when it would be tough for Obama to get through his choice of the judge and sets the stage for an intense showdown by Senate Republicans who have maintained that Obama should not choose Scalia's successor, with less than a year left for his presidency.
The Senators have said they do not plan to vet or hold hearings on the nominee, and say the next President should choose the new judge on the nine-member bench. However, Obama and Democrats are of the view that that with 10 months left, there is plenty of time for the Senate to take up and confirm a new justice.
Earlier, it was widely reported that Obama could nominate 48-year-old "trailblazer" Srinivasan to the country's highest judicial body. The moderate judge, who enjoys impeccable bipartisan support, would have been the first Indian-American to be on the bench of the US Supreme Court.
Justice Garland, in his brief remarks, said: "If the Senate sees fit to confirm me to the position for which I have been nominated today, I promise to continue on that course."
He said the trust that justice will be done in US courts without prejudice or partisanship is what, in a large part, distinguishes this country from others.
"People must be confident that a judge's decisions are determined by the law and only the law. For a judge to be worthy of such trust, he or she must be faithful to the
Constitution and to the statutes passed by the Congress.
"He or she must put aside his personal views or preferences and follow the law -- not make it. Fidelity to the Constitution and the law has been the cornerstone of my professional life. And is the hallmark of the kind of judge I have tried to be for the past 18 years," he said.
Obama said throughout Garland's jurisprudence runs a common thread, a dedication to protecting the basic rights of every American, a conviction that in a democracy, powerful voices must not be allowed to drown out the voices of everyday Americans.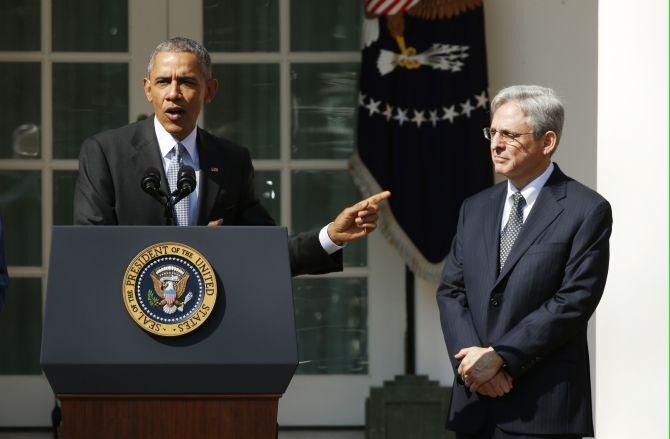 IMAGE: President Barack Obama points to Judge Merrick Garland. Photograph: Kevin Lamarque/ Reuters
"To find someone with such a long career of public service marked by complex and sensitive issues, to find someone who just about everyone not only respects, but genuinely likes, that is rare, and it speaks to who Merrick Garland is not just as a lawyer, but as a man," he said.
People respect the way he treats others, his genuine courtesy and respect for his colleagues and those who come before his court, he added.
Well aware that the Republican leadership is pre- determined to oppose his nomination, Obama urged the Republican leadership in the Senate not to play politics with the Supreme Court.
"At a time when our politics are so polarised, at a time when norms and customs of political rhetoric and courtesy and comity are so often treated like they are disposable, this is precisely the time when we should play it straight and treat the process of appointing a Supreme Court justice with the seriousness and care it deserves because our Supreme Court really is unique," Obama said.
"It's supposed to be above politics. It has to be. And it should stay that way.
"To suggest that someone as qualified and respected as Merrick Garland doesn't even deserve a hearing, let alone an up or down vote, to join an institution as important as our Supreme Court, when two-thirds of Americans believe otherwise, that would be unprecedented," he said.
"To suggest that someone who has served his country with honour and dignity, with a distinguished track record of delivering justice for the American people might be treated, as one Republican leader stated, as a political pinata. That can't be right," Obama said.
The President said he had earlier said that he would take this process seriously, and he did.
"I chose a serious man and an exemplary judge, Merrick Garland. Over my seven years as president, in all my conversations with senators from both parties in which I asked their views on qualified Supreme Court nominees, and this includes the previous two seats that I had to fill, the one name that has come up repeatedly from Republicans and Democrats alike is Merrick Garland.
"Now, I recognise that we have entered the political season, or perhaps these days it never ends, a political season that is even noisier and more volatile than usual," he said.
"I have fulfilled my constitutional duty. Now it's time for the Senate to do theirs. Presidents do not stop working in the final year of their term, neither should a senator," said the US President.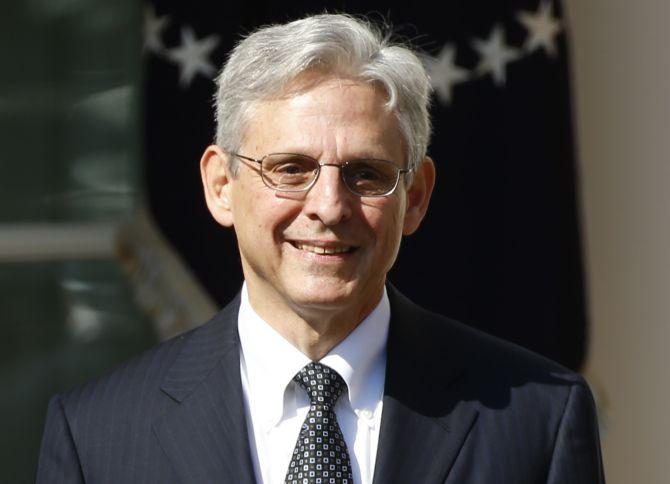 IMAGE: Judge Merrick Garland smiles for the cameras in the Rose Garden of the White House. Photograph: Kevin Lamarque/ Reuters
The Republican leadership in the Senate immediately made its intentions clear that it would not confirm Obama's nomination to the US Supreme Court.
"This issue is not about any single nominee -- it's about the integrity of the Court," argued Senator John McCain.
"With less than a year left in a lame-duck presidency and the long-term ideological balance of the Supreme Court at stake, I believe the American people must have a voice in the direction of the Supreme Court by electing a new president," he said.
"The last time the American people spoke, they elected a Republican majority to the Senate to act as a 'check and balance' on President Obama's liberal agenda -- a responsibility I cannot ignore. We must allow the people to play a role in selecting the next lifetime appointment to the Supreme Court," McCain said.