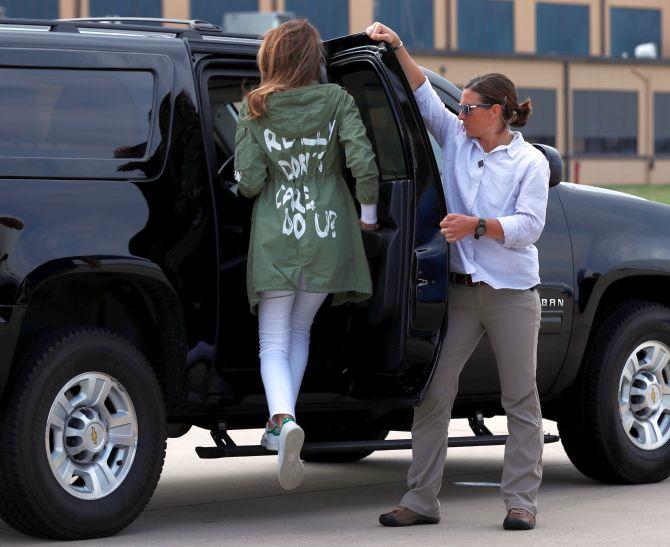 Melania Trump wanted to show the world that she was a compassionate first lady by visiting a migrant child detention centre in Texas but her insensitive choice of a jacket during the trip has caused uproar on social media.
As she boarded a plane, she wore an olive green jacket, which said on the back: "I really don't care. Do U?" in white graffiti-style lettering.
Melania, 48, was not wearing the branded Zara jacket when she landed in McAllen, Texas on Thursday on a visit to personally witness the humanitarian situation along the US-Mexico border that has captured global attention.
Under US President Donald Trump's "zero-tolerance" immigration policy, nearly 2,000 children have been separated from their parents and placed into holding facilities between April 19 and May 31 of this year, according to the Department of Homeland Security.
The public outcry in the wake of images and stories of the children caught in the middle of Trump's controversial immigration policy has sparked a fierce global debate.
Hours after the photo of her departure outfit went viral, the first lady again donned the jacket to disembark from the plane at an Air Force base outside Washington,DC.
She ignored questions from reporters as she entered the presidential motorcade.
Responding to the social media criticism, her spokeswoman Stephanie Grisham said "there was no hidden message" in the former fashion model's sartorial choice.
"It's a jacket. There was no hidden message. After today's important visit to Texas, I hope the media isn't going to choose to focus on her wardrobe," Grisham said.
US President Trump, in an apparent attempt to deflect the criticism over his wife's attire, tweeted that the jacket Melania wore "refers to the Fake News Media".
Melania made the previously unannounced visit to the detention centre, saying she wanted to help reunited migrant children who were separated from their families.
"She wants to see what's real," the first lady's spokeswoman Grisham told CNN during a briefing en route to Texas, explaining Melania's decision to visit.
Herself an immigrant, Melania, who was born in Slovenia, had earlier this week urged US President Trump that she "hates to see children separated from their families".
Melania, during a meeting with officials, asked how often the children speak to their families by telephone, how they are emotionally cared for on arrival and on average how long they stay at the facility before being placed elsewhere.
The first lady stopped to visit with children in three separate classrooms during her tour.
"Where are you from?" she asked several of the kids, along with "How old are you?" and "Have you made friends?"
The children answered, some via a teacher translating from Spanish to English.
The children are "usually distraught" when they arrive, she was told by officials, but "when they see the environment, they start relaxing."
"The first 24 hours are crucial," a staff member told the first lady.
Meanwhile, a readout of the trip from the White House said the US first lady was impressed with the visit.
"Spending time with them reinforces the fact that these kids are in this situation as a direct result of adult actions.
"It is my hope that Members of Congress will finally reach across the aisle and work together to solve this problem with common sense immigration reform that secures our borders and keeps families together," she said.
Photograph: Kevin Lamarque/Reuters