Mukhtar Ahmad/Rediff.com reports from Srinagar on the J&K CM's win.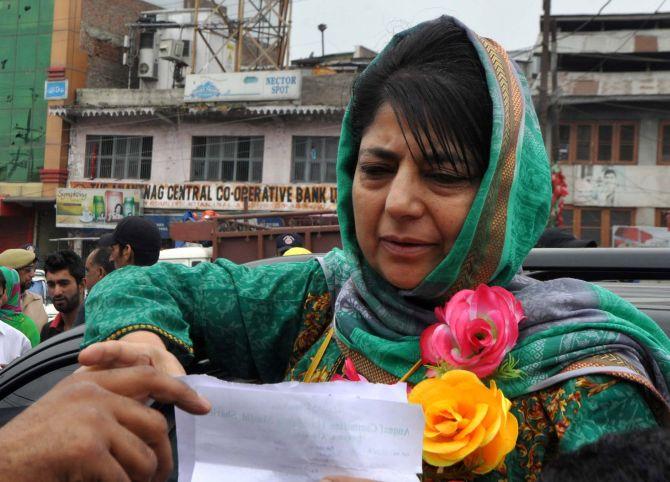 IMAGE: Jammu and Kashmir Chief Minister Mehbooba Mufti greeted by party workers after her win in Anantnag. Photographs: Umar Ganie
Jammu and Kashmir Chief Minister Mehbooba Mufti won the by-elecvtion to the Anantnag assembly constituency after securing an unassailable lead of over 12,000 votes.
The victory was crucial for Mehbooba to retain the position of chief minister and also for her Peoples Democratic Party to assert its popularity after its alliance with the Bharatiya Janata Party in the state.
Mehbooba defeated her nearest rival, Hilal Ahmad Shah of the Congress party, by 12,085 votes. Mehbooba polled 17,701 votes.
National Conference candidate Iftikhar Misger was a distant third, polling just 2,702 votes, district election officials said.
A formal announcement of Mehbooba's victory will be announced after all the votes are counted, the officials said.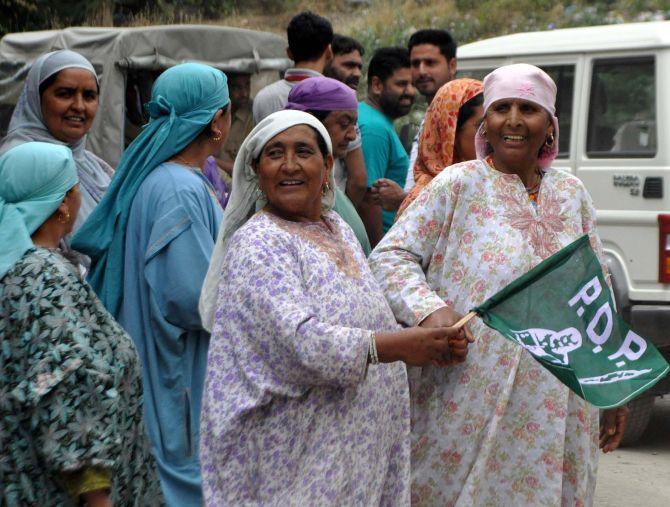 IMAGE: PDP women workers celebrate Mehbooba's win.
Mehbooba represented the Anantnag parliamentary constituency in the Lok Sabha and had to get elected within six months after taking over as chief minister as per the J&K constitution to either House of the bicameral state legislature.
This will be Mehbooba's fourth term in the J&K assembly.
Mehbooba, 57, was among the eight candidates for the by-election for the Anantnag assembly seat, which was necessitated after her father, then chief minister and Anantnag MLA Mufti Mohammad Sayeed, passed away on January 7.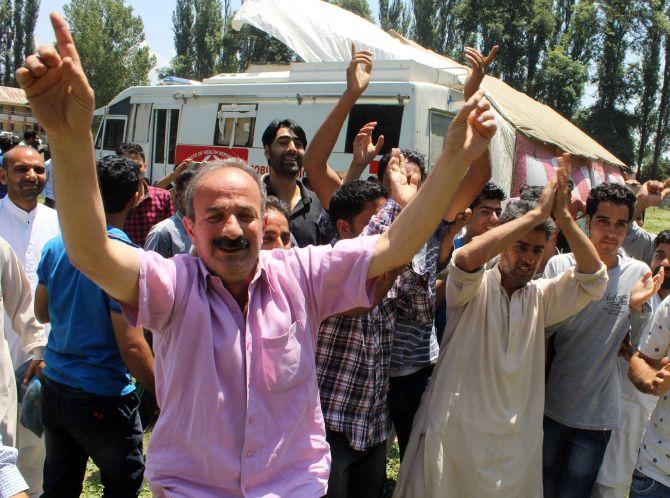 IMAGE: PDP workers celebrate in the streets.
Mehbooba took over as chief minister in April.
The victory is critical for Mehbooba and her party. Some observers felt the PDP had become unpopular after renewing its alliance with the BJP.
With her election, the party must feel confident it can retain the Anantnag Lok Sabha seat which will fall vacant with Mehbooba being elected an MLA.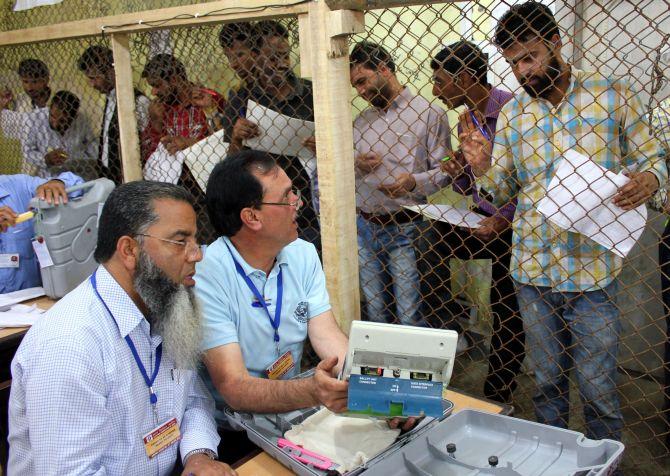 IMAGE: Mehbooba easily defeated her Congress and National Conference rivals.
Despite the chief minister being in the fray, Anantnag witnessed a low key campaign. Mehbooba held two road shows without going in for larger campaign rallies.
Various separatist groups had called a poll boycott in the constituency.