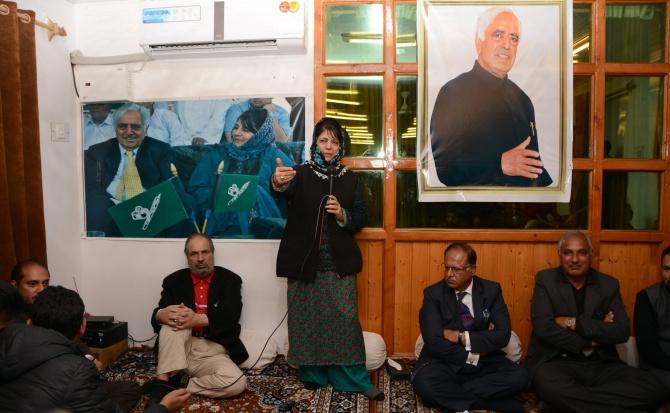 The Peoples Democratic Party on Thursday declared the party president Mehbooba Mufti as the chief ministerial candidate setting in motion the process of formation of a new government in Jammu and Kashmir.
The legislature party of the PDP which met in Srinagar on Thursday afternoon unanimously chose Mehbooba Mufti as the chief ministerial candidate as also its leader.
The Jammu and Kashmir governor, N.N.Vohra has invited the leaders of the PDP and the Bharatiya Janata Party for separate meetings with him in winter capital Jammu on Friday.
While addressing the members of the legislature party, Mehbooba thanked them for reposing their trust in her and supporting her during the past three months following the demise of her father and former chief minister, Mufti Mohammad Sayeed.
Mehbooba would be the first woman chief minister of Jammu and Kashmir which has been under governor's rule since January 8 following the demise of Mufti Mohammad Sayeed.
While the PDP has been demanding CBM's before the formation of a government in the state, the BJP demand has been that Mehbooba should first get herself elected as leader of the legislature party.
The PDP president has had parleys with the BJP leadership at various levels in New Delhi including the party president Amit Shah.
The parley's culminated in her meeting with Prime Minister Narendra Modi. Mehbooba had termed the meeting as 'very positive'.
Mehbooba, a member of Parliament from the Anantnag constituency has been in politics since 1996 when she fought and won the Bejibehara assembly seat on a Congress ticket and has been instrumental in the creation and growth of the PDP.
While her late father was the patron of the party, Mehbooba became its president and has played a major role in making the PDP a political force to be reckoned with in Jammu and Kashmir.
She has been working tirelessly at the grass root level strengthening the party's base among the masses in the state.
The late Mufti wanted to hand over the reins of power to her in November last year. However, Mehbooba showed reluctance in stepping into her father's shoes.
IMAGE: Peoples Democratic Party president Mehbooba Mufti at the meet in Srinagar. Photograph: Umar Ganie