Jammu and Kashmir Chief Minister Mehbooba Mufti on Wednesday filed her nomination papers from the Anantnag assembly segment which fell vacant on the demise of her father, Mufti Mohammad Sayeed.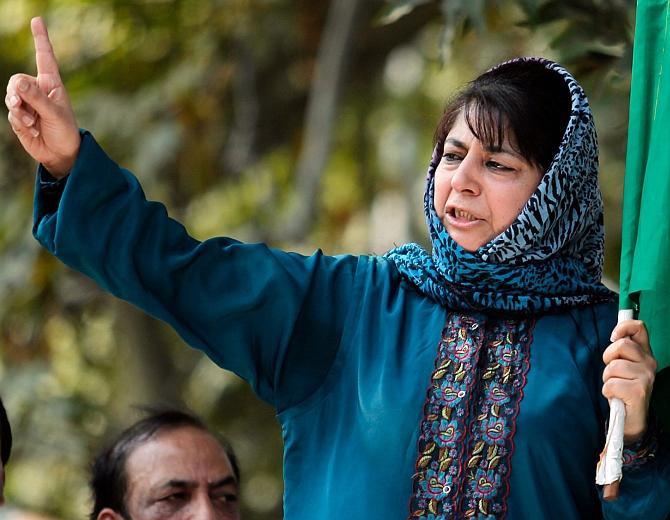 After filing her nomination papers before the returning officer for Anantnag assembly segment, the People's Democratic Party chief voiced hope that the people will repose faith in her father and elect her so that she can complete the work started by him.
"People showed their trust in Mufti sahab and gave him an opportunity to be the chief minister. I am hopeful that people will again repose their faith in him and give me an opportunity to complete the work left by Mufti sahab," said Mehbooba who took over the reins of the PDP-BJP government on April 4 this year, three months after Sayeed's demise.
Mehbooba, MP from the Anantnag parliamentary constituency took over as the state chief minister on April 4 and is not the member of either house of the bicameral Jammu and Kashmir legislature.
As per the state constitution, Mehbooba has to get elected to the legislature within six months from the date of her anointment as the chief minister.

Mehbooba who is also the president of the PDP will be in Anantnag on Wednesday to file her nomination papers and the polls are slated for June 19.

Mufti Sayeed had been elected from the constituency in the assembly elections which were held in December 2014. He had defeated his nearest rival from the Congress party by a margin of over 6,000 votes.

Mehbooba will be pitted against the National Conference and Congress candidates and the contest would be the test of her popularity and that of her party, the People's Democratic Party, after its alliance with the Bharatiya Janata Party.

Analysts in Srinagar believe that Mehbooba will have to go all out to win the election as the party's vote bank in the constituency has seemingly shrunk after its alliance with the BJP.

The NC has fielded Iftikhar Misgar from the constituency while Congress has put up Hilal Ahmad Shah as its candidate for the constituency. While the NC has a support base in the constituency, the Congress has also pockets of influence in the Anantnag constituency.
The counting of votes is scheduled for June 22.

Earlier the Election Commission had postponed polls in the constituency on account of law and order situation.