The PDP elected the 56 year old unanimously to succeed her father.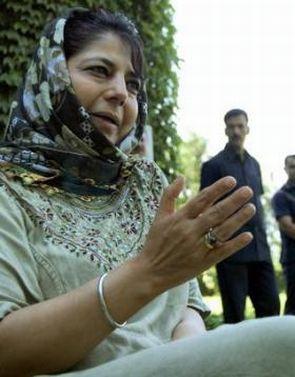 Ruling People's Democratic Party President Mehbooba Mufti is set to be the first woman chief minister of Jammu and Kashmir, succeeding her father Mufti Mohammad Sayeed who passed away on Thursday, January 7, with PDP MLAs unanimously electing her as their leader and writing to Governor N N Vohra in this regard.
A party delegation met the governor at Raj Bhavan in Srinagar and handed over the letter which says the PDP legislators back Mehbooba, 56, to take over as the 13th chief minister of the state, a senior PDP leader said.
The selection of Mehbooba, a Lok Sabha member, as the leader of the 28-member PDP Legislature Party was unanimous, he said.
The party leader did not specify the date or time for her swearing-in.
"It will follow in the due course of time as we are still in the process of performing the last rites of our beloved leader," the PDP leader said.
Earlier, the Bharatiya Janata Party, which is the coalition partner in the state government, left it to the PDP to choose its nominee for the chief minister's post.
"As the BJP has left it to the PDP to select its chief ministerial nominee, the decks seem to have been cleared for Mehbooba to become the first woman chief minister of the state," the PDP leader said.
"As far as the PDP is concerned, we are unanimous that Mehbooba shall succeed Mufti Sahab," senior PDP leader and Lok Sabha member Muzaffar Hussain Baig told reporters.
Mehbooba currently represents Anantnag in the Lok Sabha.
The mother of two daughters won her first assembly polls as the Congress candidate from her home segment of Bijbehara in 1996.
Mehbooba played a key role in her father's victory as the Congress candidate in the Lok Sabha election of 1998 when Mufti Sayeed defeated the National Conference's Mohammad Yousuf Taing from South Kashmir.
The Muftis, along with some key associates, floated the PDP in 1999.
In the 2002 assembly election, the PDP bagged 16 seats and Sayeed, for the first time, became chief minister with the support of the Congress and some Independent MLAs.
In 2004, Mehbooba contested and won her first Lok Sabha election from Anantnag.
In 2008, she contested the assembly polls and was elected from the Wachi segment of Shopian in South Kashmir when the PDP bagged 21 seats, but lost power to the National Connference-Congress coalition.
In May 2014, she again won the Lok Sabha election from Anantnag.
In the 2014 assembly election, the PDP won 28 seats and in March 2015 it formed its second government in Jammu and Kashmir -- this time in an alliance with the BJP.
Mehbooba has never lost an election from South Kashmir so far.